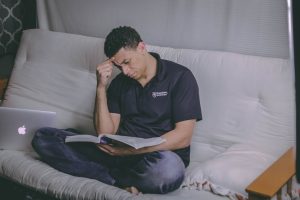 Perceived sexual morality — and immorality — is often a sticky point. With Puritanism alive and well in modern US society, the notion of sex as a pleasurable act riles debates and outright prohibitions among many people who identify as "spiritual" in some form.
Morality/immorality conflicts were recently on display via the Catholic University of America in Washington, DC. In a 13-12 vote, the university's Student Government Association (SGA) passed a resolution on April 1st banning adult content on the school's Wi-Fi network. The resolution, "A Resolution for a Pornography Free Campus Network," bans on-campus access of the top 200 porn websites.
"I am signing the Resolution not from purely religious or Catholic grounds, but because The Catholic University [of] America can and should exercise its rights to prohibit the use of pornography on the campus network," SGA Vice President Weston Kirby wrote in a statement. Kirby casted the tie-breaking vote.
"First, I do not believe that the freedom to watch pornography is one that any student on this campus is entitled to through our network," Kirby's statement continued. "Second, some claim that this is censorship of thought, expression, or a violation of some freedom of due information. I respectfully disagree. Rather, it is a regulation that the national University of the Catholic Church or any other private institution ought to be able to enact."
The Catholic Church claims adult content is both exploitation and secularization of the body. According to CatholicsComeHome.org, the Church asserts that porn renders the body an object. As consuming  porn is an act of lust (per the Catholic Education Resource Center), the Church considers viewing pornography a sin.
This marks a trend among Catholic universities to attempt to curtail pornography use on-campus. Earlier this year, student activists at Georgetown University and the University of Notre Dame petitioned for similar blocking initiatives.
"The relationship between the codified suppression of sexually-oriented material and the subordination of women extends well into the modern era (and will inevitably persist into the future)," Notre Dame student Jeffrey Murphy wrote in the school's newspaper. "Giving any governing body — even a private entity not bound by the First Amendment — the subjective power to determine what content is or is not permissible has never, and will never, lead to prosperity for the intended beneficiaries of such censorial measures."
This comes at a time when xHamster claims that "very religious people secretly kinkier than the rest of us" and spend more money to satisfy their porn tastes than non-religious people do.
With 44 percent of 11,000 respondents reportedly identifying as at least "somewhat" religious, the spiritually-identified seem to be willing to pay more for higher-priced content – such as VR porn – and are willing to tip cam models more at a factor of 40 percent. The religious preferred VR porn, live cams and porn for women and disliked bisexual, transgender and male gay porn. They are also twice as likely to read porn as being a representation of "real-world" sex than the average viewer.
More telling, this report showed that the religious are more likely to learn about sex from porn sites than the average xHamster viewer. This is possibly due to the stigmatization of sex and sex education in religious communities — meaning, there are fewer sanctioned avenues for the religious individual looking for answers about sex. The very religious, as identified by xHamster, are more likely to have anxiety about the porn they watch.
Given this, the shutting down of porn access on-campus may be more of a problem than a solution.
"The connection between religion and pornography was no fluke. Indeed, agreement with various religiously conservative positions was predictive of pornography use," Nigel Barber Ph.D. reported for Psychology Today. "States claiming to have old-fashioned values about family and marriage purchased substantially more adult-content subscriptions."
"Tell someone not to think about a white bear and they cannot do it (the white bear effect). The image of a white bear haunts their consciousness," Barber continued. "Perhaps religious people are poorly equipped to deal with the reality of their own sexuality. Or maybe their attempts at banishing sexual thoughts call in the white bear."
Image by Craig Adderley via Pexels.