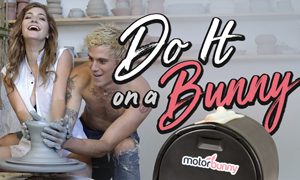 Motorbunny, the only motorized, ride-on-top vibrator designed for use by men and women, is debuting "Do it on a Bunny: Pottery Edition," the newest episode of its engaging video series. The viral video campaign features popular models and influencers valiantly attempting regular activities while riding atop the legendary saddle vibrator. Check out the new video!
"Do it on a Bunny: Pottery Edition" features popular internet model Skye Blue as she rides a vibrating Motorbunny while attempting to work a pottery wheel. Her male friend offers assistance in a close re-creation of the iconic pottery wheel scene in the 1989 film "Ghost." While the camera rolls, the Motorbunny's "buzz" intensifies for her pleasure while posing a challenge to complete her pottery.
"Skye is captivating and her expressions are priceless," said Craig Mewbourne, CMO of Motorbunny. "We have a lot of fun creating the 'Do it on a Bunny' series, but the best part is that it gives viewers a sense of the capabilities and the possibilities Motorbunny can bring to their love life. We hope you enjoy this new episode."
The series was launched late last year with holiday-themed editions for Thanksgiving, Christmas and, most recently, a Game Night edition featuring two sexy models as they played Jenga while riding the Motorbunny.
"Doing ceramics on a Motorbunny was so exciting," Blue said. "It's so intense and feels so good, can all pottery dates be like this?"
To see more videos from the "Do it on a Bunny" series, subscribe to the Motorbunny YouTube Channel.
Motorbunny has been the industry's leading saddle-style vibrator made for men and women. Its sturdy construction, innovative design, and affordable price have firmly positioned it among the most popular adult products today.
The innovative wireless Motorbunny LINK Controller, coupled with a new MB LINK app, lets users control the various speeds and frequency of the "buzz" and "twirl" functions from their mobile phone or tablet. Users will be able to control Motorbunny with a tablet in the same room and over the Internet.