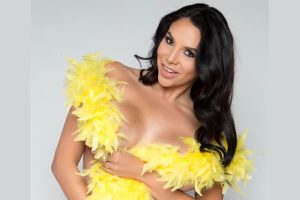 Fact: Missy Martinez is hilarious.
Her social media accounts on Twitter and Instagram are wildly popular — certainly in part because she's stunning to look at, but also because she's clever and uplifting.
But in spite of doing what can best be described as a public good via smarts and sass, on Thursday of last week – April 5 – Martinez woke up to some shitty news.
Missy Martinez: I went to log in to my Instagram at about 5:30 this morning. It was just the regular login page, so I entered my name and my password… and then I entered my phone number, and it said: "User does not exist." So I texted my friend: "Hey, am I deleted or am I just timed out?" She checked, and you can't find me at all — but all the fake profiles of me are still up, so there's that.
I sent an email to Instagram, and I'm like, "I believe this was an oversight unless you hate sex workers." I did that around six this morning and still have not gotten a response. I had 795,000 followers.
YNOT: Did you somehow inadvertently violate a term of service?
No, I don't think so. I follow all their terms of service. All my [images] were completely covered and censored. As far as I know, there hadn't been any updates [to their terms of service] so I didn't post anything that violated something new. Even though I am in the adult industry, I follow all the rules! And I've had that account since 2013. It's taken years to build it up, and it is too daunting of a task to start over. If I don't get the account back, I don't think I will.
Hey, @instagram : I follow all your terms and conditions. Clearly my account deletion MUST be an oversite (unless you hate sex workers or something)

— Missy Martinez (@MissyXMartinez) April 5, 2018
So, it seems pretty random or biased?
It's really disconcerting and very biased because there are "Instagram models" and they can post an exact identical shot of, like, a picture in a bikini. [Performers' posts] get flagged, but theirs do not. So it's hard to tell if it's people being overly critical and insecure and reporting photos just because that's not what they want to see, or if it's a corporate decision to blacklist sex workers.
I was already shadowbanned, so you couldn't see me in the hashtags I was using. But I was using things like #daddyissues or #lowselfesteem — things like that, and nothing ever got flagged. And I didn't even receive a notification email [from Instagram] or an email stating why.
I also know Abigail Mac recently just had her account deleted. It took her like three weeks to get it back, but she was able to.
[Editor's note: Abigail Mac currently has 1.1 million followers on Instagram.]
So, knowing at any given time this could happen, why do you even bother with social media?
It's super disheartening because I have to live in constant fear while trying to expand my brand through a very popular platform – "Is this the one post that's going to get me deleted?"
I've had pictures that were just of my face that have been deleted. So, there just doesn't seem to be any viable reason. I don't know if it's based on the followers, like who's following you and their subject matter? Or, maybe they have some bizarre algorithm that hates boobs? I don't know what it is, but I am not surprised and I'm not mad. I'm just kind of hurt. Like, give me a reason. Say it to my face at least.
Don't panic LA, that rumble was just me taking off my bra.

— Missy Martinez (@MissyXMartinez) April 5, 2018
Is the return compelling enough? Like, if Instagram gives you your account back tomorrow, you're not going to stop posting on there?
It's become too significant of a branding tool for me. It's too popular for me not to use, so it's almost a necessary evil. But I'm just going to have to keep looking over my shoulder, and [my followers] are basically only going to be seeing pictures of salads, I guess.
…which Instagram will probably say is a butthole or something, and then they'll get mad. The arbitrary control they exert is kind of terrifying.
Absolutely, especially with the climate towards sex work in general right now. I don't understand – it's 2018, and I don't know why this human body is so taboo. This doesn't mean that people that use Instagram and post hardcore photos don't need to be policed. They do, but Instagram needs a better filter bot.
Do you thing these platforms have any regard or appreciation for the traffic, attention and engagement that you bring to their spaces?
I don't think of myself as an influential person, but there's a chunk of the average population that knows about me if they are active on any social media — and you figure they could consider me an influencer… So maybe [the platforms] want you to do well, but only so well as they see fit. It's funny, I was verified on Twitter, but they took my verification away after six months.
So what do you think about designated sex work-friendly social media spaces like Switter.at?
I'm actually not into the idea simply because it's label driven, instead of Twitter and Instagram being a melting pot of people from all walks of life.
One thing that I'm really proud of myself for, especially on my Twitter, is being seen as "normal." People are seeing sex work normalized, like, "Hey we are just regular people… We are paying our bills, and we pay taxes. Most of us have families and a college education."
I don't like the idea of being just one thing. I have put politics and mental health in my Twitter feed, and I post jokes on Instagram, you know, just to reach a wider audience as well. Porn is already label-driven enough, and I really like trying to break out of that mold.
Plus, it's a big task to start up social media. Even if a person only has 325 followers, that's still a lot for the average regular person who isn't in the entertainment industry. For them to start all over on a new platform and not know if they are going to get the same action that they currently have with performers… I have relationships on social media. I've built friendships with some of my long term fans and supporters, and to have to start over again has to be intimidating for the average user.
Sex workers: given the volatile and persecutional climate surrounding our industry right now, please make sure you have several streams of income to protect yourself. Together we can fight this sexual and first amendment oppression and rise up victorious. I love you all! 💕

— Missy Martinez (@MissyXMartinez) April 10, 2018
What about paid platforms like OnlyFans?
If I don't get my Instagram back, I am just going to have to post those photos on my OnlyFans. So, what I would normally be posting for free, I'm just going to start charging for.
I just started OnlyFans in December, and I already have noticed that it has created a demand and that it's monetarily viable. And that's the thing: We've been using all these free platform sites instead of profiting off of ourselves… I don't know if it's an ego thing or just to show popularity and get your rates up, but you are ultimately giving away a product for free that you can actually be charging for. I have already seen benefits on my Twitter. I don't post hardcore nudity anymore, and it helps me to monetize my name and my brand verses giving it away for free. So that's the way I think I am going to have to start looking at it if Instagram doesn't pan out for me.
People always feel the need to ask porn stars with the concern if they "actually like their job" Dude, you work at Verizon. Are YOU okay is the real question.

— Missy Martinez (@MissyXMartinez) March 29, 2018
Do you think the rules of social media and the conventions for making it work may be shifting?
Social media platforms have helped porn and sex work, but they've also hurt it by making us too attainable. There is no need to pay for content anymore — and that's a personal branding decision, by the way – but there is no motivation. You know, "Why would you buy the cow if you can get the milk for free?" We are just a click away.
I would like to encourage performers to really take a look at what they are posting. You have to start to think about yourself like an uptight mid-western wife would — you know, someone that doesn't like the idea that her husband liked your photo — and stop and think, "Would she report this?"
If we are going to have to have more of an editing lens, that's what I will recommend — but it's also a violation of our free speech rights at the same time. So, you have to pick and choose, you know, is this worth loosing [your account] over? If it can happen to me, it can happen to anyone.
Even to you, and you're just a public person trying to do her job…
You know, I put my bra on one arm at a time — just like everyone else.
—
Editor's note: At the time of publication, Martinez confirmed she has still not heard back from Instagram about her account, in spite of daily inquiries and petitioning efforts.