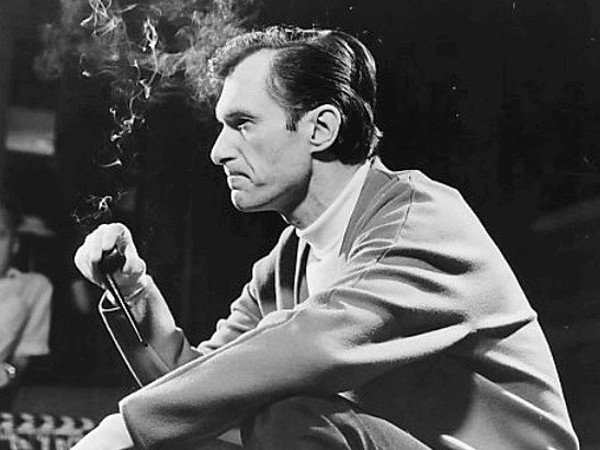 LOS ANGELES – In 1953, Hugh Hefner founded Playboy magazine with a dream, guts and a $1,000 loan from his mother. During the 64 intervening years, Hef's project helped kickstart the sexual revolution of the 1960s and gave generations of men a suave, debonair, sexually charged ideal to which to aspire. The magazine became the centerpiece of an adult entertainment empire, and "Hef" became an icon.
Hefner died Wednesday at the age of 91, after living an erotic dream in a fantasy mansion surrounded by gorgeous women decades younger than he.
His mystique, his influence on adult entertainment and his impact on modern culture will live forever.
"The moment when I read the news that the founder of Playboy had passed away at 91, it shocked me in a way that hurt and is hard to describe," said Juicy Jay, founder and chief executive officer of Canadian traffic network JuicyAds. "Losing Hefner is a big one, not just for Playboy or the adult industry, but for the world. I'm sure there are many people who would never condone his magazine or his lifestyle, but to hell with them. His life is not anyone's to judge.
"His suaveness was undeniable, and his personality made him the coolest man on the planet," Jay continued. "No matter how people feel about porn, that man lived life to its fullest and he will be missed."
Though Hefner never saw Playboy as pornographic, his and the magazine's impact on entertainment shaped the adult industry in ways both overt and subtle.
"It would be impossible in a single statement to sum up the effect Hugh had not only on our industry, but on the generations that followed in his wake," said Free Speech Coalition Executive Director Eric Paul Leue. "Every adult performer, producer, publisher and retailer working in the industry today owes Mr. Hefner a debt of gratitude. Not only did the battles he fought clear the way for the modern adult industry, [but also] his work and advocacy were crucial in destigmatizing sex and sexuality."
Some of the today's most successful adult entertainment brands acknowledge a large debt to Hefner, in spirit and inspiration, if nothing else.
"Hugh Hefner was a legend," said Steven Hirsch, founder and co-chairman of Vivid Entertainment. "Our dealings with Playboy helped propel us in the formative years of our company. He will be forever remembered as an iconic pioneer, and the industry wouldn't be here today if it weren't for him. Rest in peace, Hef."
Penthouse Global Media Inc., the parent company of Playboy's upstart competitor in the early years, now sees its one-time rival as a sort of big brother, according to PGMI Chief Executive Officer Kelly Holland.
"Our name, Penthouse, was inspired by an early Playboy TV show called Playboy's Penthouse," she said. "Our early logo, a macho little turtle, was based on the parable of the tortoise and the hare. We have always been the delinquent younger brother of the bunny, as we are defined as much by our competitors as our own vision. Rest in peace, Mr. Hefner."
Though Hefner's living-legend status may have made him seem like an unapproachable demigod to much of the world, those who worked for the man said he was remarkably warm, down-to-earth and approachable when not "playing to the cameras."
"Every man in the world grows up wanting to be like Hugh Hefner, and working for him was a blast," said Richard Buss, senior account manager for YNOT Mail and director of products and services for YNOT Group LLC. "I met him once at the Playboy Mansion during a party there and mentioned to him that he has lived the life. He looked me straight in the eye and said 'I surely have. I couldn't be happier.'"
Though men are Playboy's primary market, Hefner and his empire have had a monumental, worldwide effect on women, too — and not just by casting them as sexy bunnies.
"I'm very disappointed I did not get the chance to meet him," said British performer and entrepreneur Tanya Tate. "He was a very iconic man. With Playboy, he was able to present the naked female body and not only have the magazine accepted by mainstream audiences, but also celebrated. The Playboy magazine, the Playboy brand, it broke boundaries."
Webcam model Kelley Cabbana said, "Playboy launched my career in the adult industry. It was such an incredible honor to have been chosen to work with them. I will never forget. Rest in peace, Hugh Hefner."
There was much more to Hef than just the debonair playboy whose larger-than-life existence shaped the notion of seductive masculinity in the mid-20th century. Hefner also was a free-speech advocate, an early supporter of the gay-rights movement and a philanthropist.
"While those outside the industry will remember him for the bunnies and the mansion, we [in the adult industry will] remember the true Hugh: a tireless advocate for reproductive rights, women's sexuality and civil rights," said FSC's Leue.
According to Juicy Jay, "We have Hef to thank for the adult industry existing at all, but he was more than porn and even once helped to save the iconic Hollywood sign.
"In some ways, I felt he would live forever," Jay added, "but I suppose legends never die."
Lead image: Hugh Hefner appears on an ABC television show in 1966. (public domain)