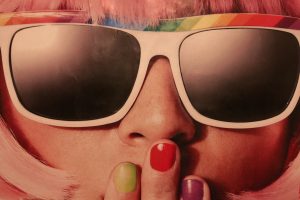 Legal porn just turned 50. 
On October 21, 1969—a good year for it!—the first public porn trade show opened in Copenhagen, Denmark. Pornography had been officially declared legal in Denmark in July, and  the trade show "Sex 69" marked the first opportunity for the "the nascent industry [to come] together for the first time without fear of arrest or censorship," wrote industry insider Mike Stabile. 
Alex Hawkins, VP of tube site xHamster, told Stabile "Until Denmark legalized adult material, it was illegal, hidden and shameful. People could be arrested merely for possessing an explicit picture, let alone taking one." But, said Hawkins, "Within a year of the expo, sex crimes had fallen 25% in the Denmark, and countries across the world—including the US—began allowing the legal sale of adult material."
Sex 69 was the first opportunity for the public to interact with the adult entertainment industry in public—and they arrived in droves for the experience. Forbes's Franki Cookney wrote that "some 50,000 people flocked to Sex 69," and at the time, The New York Times reported that "long lines stretched around the block tonight, and sales were suspended for fear of overcrowding." 
Crowding notwithstanding, Sex 69 started a trend that has grown and deepened over the past half century. "That trade show was the precursor to modern shows like AVN, Xbiz and Venus Berlin," said Stabile. And Cookney noted, as Porn Film Festival Berlin launches its thirteenth year, elsewhere, "There are porn film festivals in Berlin, Vienna, London, not to mention Dan Savage's touring Hump! Festival." Porn conventions are now a mainstay for porn-makers and consumers the world over.
The porn industry itself has grown since Denmark set the pace 50 years ago, too. When Sex 69 kicked off in Copenhagen, "Denmark's export market for sex books and films was already worth $3.8 million a year," according to the Observer. Now—while numbers for the massive global industry are difficult to pin down—estimates for the porn industry "range from $6 billion to $97 billion," reported Cookney in Forbes.
Alongside the growth of the industry, the nature of porn itself has changed over the decades, as well. Sex 69 kicked off an age of innovation, starting with feature movies recorded on film and played for paying audiences in movie theaters in the seventies and eighties, which moprhed into the VHS home viewings of the eighties and nineties, which then evolved into the online pay sites of the early aughts, and which now exist in the free-streaming-video megaliths and live webcam shows of the twenty-first century. 
Adult entertainment has had a whirlwind first fifty years of legal existence in the western world. Who knows what porn will look like in another fifty years? Only time will tell, but as Cookney said in Forbes, "One thing is for sure, as every historical summary of the adult industry must conclude: Porn isn't going anywhere."
Stock photo by Pixabay from Pexels.com