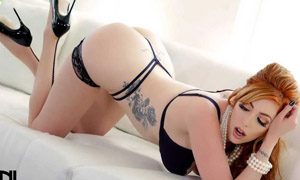 Another awards show, another trophy for Lauren Phillips.
America's Favorite Redhead™ took home the Social Media Queen trophy at the 2018 Inked Awards, held in New Jersey on Saturday night. Lauren spent Friday, Saturday and Sunday at Exxxotica NJ where she signed at the 1amdoll USAbooth. 1amdoll USA, of course, is the company that brought the world Lauren's 3V Starlet Stroker, which coincidentally she debuted at the Exxxotica convention in Denver earlier this year. Sunday turned into a true lovefest as friends and fans came to congratulate the social media whiz.
Lauren holds 384k followers on Instagram, 175k on Twitter, is wildly popular on Snapchat, FanCentro, Twitch (among many others) and hosts the popular site, for which she won the NightMoves Award for Adult Performer Website of the Year. But more than raw numbers, Lauren is known as the rare performer who really knows how to relate to her fans. She has the magic touch that is the right combination of self-reveal, self-promotion and fan engagement.
"Social media, I learned very early, is hugely important for those of us in the adult industry," Lauren said. "Before Twitter and the many other options there was a huge disconnect between performer and fan. Maybe they would get to meet you at a convention or on a feature dancing date, but mostly they just saw your work on the screen. Now we have the opportunity to interact with each other 24/7 and it's truly revolutionary. I take it very seriously and enjoy it so, so much!"
Social media no doubt assisted Lauren's win in VRBangers' Survivor! contest. Lauren competed with Chloe Cherry, Demi Sutra and Whitney Wright with fans voting for the kidnapped starlet they wanted to be saved. Lauren took a massive lead early and ultimately garnered nearly 188k votes with the next-place finisher coming up with about 102k. There is now a scene, "Stolen," featuring all four available online.
Her new trophy at her side, Lauren will stage a Snapchat takeover of the XCRITIC account this Friday, Nov. 9. Fans will remember such notable XCRITIC.com appearances such as being bestowed the Best Boobs honor by Don Juan DeMarko in his wrap-up of 2018 Exxxotica Denver.
"Lauren simply stole the show with fans and seeing how much effort she really put in," DeMarko wrote at the time, adding, "fans, when you see this babe in your town, you get your fucking ass in gear and drive down and say hello."
She has taken over the XCRITIC Snapchat machine once before and it was wildly successful for XCRITIC, Lauren and, most of all, for fans. Check out the XCRITIC Snapchat @xcriticcom. Lauren's is @LaurenFillsUp.