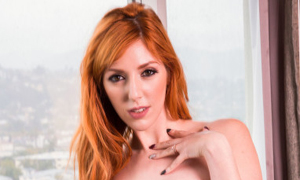 In a wild and desperate new scene for Naughty America, "Big Cock Bully," Lauren Phillips is in the unfortunate position of having to stand up to her husband's bully (Danny Mountain).
This big workplace jerk has been picking on her man and now he's even got him fired. That puts a lot of pressure on the family – they can't afford to have the man of the house unemployed and it's up to Lauren to get that wimpy Mr.'s job back for him and you know she'll do whatever it takes.
She gets a meeting with one of the supervisors, Danny, and puts on her best game, but words alone aren't going to be enough for this alpha. He's going to be very, uh, hard to convince and Lauren is the kind of woman who will go the extra mile and ride the stranger's cock to get what she needs to do. And that's exactly what she needs to do.
If Lauren's hubby is going to get his job back, Lauren is going to have to dress up in sexy lingerie and ride that prick's big dick until he is satisfied and then she's going to need to take his load wherever he sees fit. She agrees and gives him her best, which as America's Favorite Redhead™ and one of the best lays in the land, is spectacular.
Also look for Lauren in "Playing Footsie" from Brazzers, Strapon Sex Kittens 3 (Little Dragon Pictures) with Alix Lovell and Shelby Paris, and "Busty Redhead MILF Shows Her Northern Hospitality" from MILF TRIP.
This Friday, March 15, Lauren will be doing a takeover of Red Tube's Snapchat. Check it out at @OfficialRedtube.
Lauren is doing twice-weekly Twitch streams, on Thursdays and Sundays at 6 pm PST. These slots allow fans to interact with her in a non-porn environment. Join her on Twitch.
WATCH: