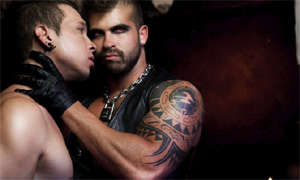 SAN FRANCISCO, CA –  Today, NakedSword Originals' fall season of original programming really kicks into high gear with their new one-of-a-kind series, THE DEVILS DEAL & OTHER SORDID TALES, now playing only on the Netflix of Gay Porn, NakedSword.com.
Spooky, sexy, and salacious, THE DEVIL'S DEAL was directed by NakedSword's award-winning director mr. Pam and written by Leo Forte and features a top notch cast including: Justin Brody, Casey Jacks, Gabriel Alanzo, Jonah Fontana, Leo Luckett, Pheonix Fellington, Ruckus and transgender star, Viktor Belmont!
If you've ever come face to face with evil you know there's a chill in the room which makes your skin crawl and all you want to do is get away. But sometimes the face of evil is so beautiful that you get a very different feeling; a lust that makes you hard and weak but all you want to do is surrender to the sins of the flesh. This new series from NakedSword Originals will make you want to do just that. From spirits, hauntings, near death experiences and deals with the devil, this series is the perfect Halloween season release.
THE DEVIL'S DEAL is broken up into four distinct vignettes of chilling, creepy, and very taboo sexual encounters that will make you think twice before making a deal with the devil or maybe not if the devil looks anything like Jonah Fontana who is perfectly cast as the devil.

In the first scene which is now playing only on NakedSword.com, we see Gabriel Alanzo going through a crisis as he is obsessed with his youth and looks. He decides to do a seance to conjure a demon to make a deal to keep his youth forever and before you know it he gets his wish. The devil himself appears and is happy to take his soul but not before taking his ass first. Jonah Fontana mercilessly pounds away at Gabriel in multiple positions before giving him his demon semen… Gabriel quickly learns that when dealing with the devil there's always a sacrifice and in this case he wakes up the next morning only to find himself blind and with the realization that he will never again see the youth and beauty he just gained by selling his soul…
NakedSword Original's Director mr. Pam says, "We had so much fun bringing this project to life! There's simply nothing like in the gay porn world today. Since it's conjured from the sick and brilliant mind of Leo Forte we really went there and explored several taboo subjects. Between the casting, the script and the way it's shot and produced there is a real authenticity that the I believe the audiences will connect to. I think THE DEVIL's DEAL
(which runs through Halloween) will certainly stand out from other releases that come out around this time of  year!"
Don't miss the most spooky and sexy release of the year, NakedSword Originals' THE DEVIL'S DEAL & OTHER SORDID tales now playing only on the Netflix of Gay Porn, NakedSword.com.