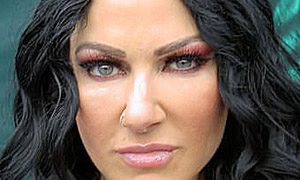 Jenevieve Hexxx once again proves that size doesn't matter when you step into the ring. She recently took on a 200-lb man and squeaked out a victor, so what's a woman with a few inches and fewer pounds going to do to her?
APL has a new match available on aplvideos and it features Jenevieve vs. Savana Styles. And whileJenevieve comes in smaller, standing just 5-feet-3-inches and weighing in at 126, versus Savana, who is five-foot-eight and has a weight advantage, hitting 141 on the scale, Jenevieve has a lethal combination of confidence and experience. Don't ever count Jenevieve out: she has moxy – or, rather, moXXXy!
Still, it's a vicious battle as the two exchange body scissors, breast and nipple attacks, crotch attacks, grapevines, hair-pulling, head scissors, log locks and no shortage of post-match penalties. And, of course, the hotties are completely naked throughout the epic battle.
"I know she's bigger than me, but I went in with a lot of confidence, maybe too much confidence," Jenevieve said. "Savana is a helluva wrestler and this is one of the most difficult matches I have ever had. I'm pretty sure she left the ring with at least a handful of my hair, but she did not go home unscathed! I don't want to spoil the match, but I will say this is one of the wildest catfights you'll ever see!"
Check out Jenevieve vs. Savana online.
Jenevieve's "Halloweenie: Witchy Woman vs. Racker" is also available from EvolvedFights. She wins the match by a single point and with it the right to peg his ass. It's a humiliating defeat for the 200-pound man, but just ask Jenevieve if she gives a shit. No, she doesn't. You get into the ring with her, you get what you deserve.
Jenevieve recently became the face of MyDirtyHobby in the United States. She joined the company exclusively over the summer and they liked what they saw so much that they not only kept her exclusive but are using her to promote the company in this country.
She also won Favorite Fetish Live Stage Performer at the 2018 Fetish Awards and she is one of the most sought-after feature dancers in the industry.
Cam Life's latest issue features an interview with Jenevieve. There is also a photo shoot of her and her boa named Pendragon snapped by Amelia G and Forrest Black appearing in the new Barely Evil magazine.