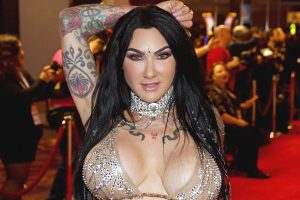 Jenevieve Hexxx is one of the adult industry's most fashionable performers and at this year's AVN Awards she made another mark.
After the 2018 AVN Awards she was awarded Top Toot of the Week – aka Best Dressed – by Violet Chachki and Katya, veterans of RuPaul's Drag Race season 7 hosting RuPaul's Drag Race Fashion Photo RuView.
This year she was featured in Fleshbot's Hottest AVN Award Red Carpet Arrivals, looking splendid in transparent pants and top that showed off her many tattoos and a collar that had tongues wagging.
"AVN red carpet is the most extraordinary night of the year in our industry and I'm so so grateful to attend and be sparkly inside and out," Jenevieve said."Thank you AVN and Fleshbot! The fairy costume creations I see in my head would not be possible without the woman who brings them to light (and puts up with my crazy descriptive imagination) Melanie Stevens. Also, my MUA and hair fairy's! @abbybeverlyy @dread_pixie @agsfirme are all magickal goddess gals! Oh, and most of all @thesecretlv Jayme Ross is no longer a secret! She's amazing! Luv you all!"
Check out "These Were The Hottest AVN Award Red Carpet Arrivals This Year" at Fleshbot.