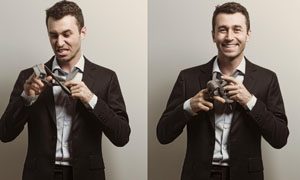 Cyberspace – JamesDeen.com has been producing 4K content since 2012. With the advancement of internet speeds, increased content storage and compression capabilities the time has come for JamesDeen.com to deliver an ever-expanding collection of 4K content to all of its users.
Deen says, "The task was arduous, but worth it. My team and I had to go through six years of 4K content, re-export and transcode it to ensure that it was delivered properly and efficiently. I'm happy it's done and going forward everything will be delivered in top quality… You know… Because some people think it is important to be able to see every potential hair follicle on a girl's vulva while she is getting fucked and I want to provide those people with what they want!"
JamesDeen.com has long been known as the internet home of industry veteran James Deen. JamesDeen.com prominently features the star in its content, which ranges from high quality features such as 'James Deen's 7 Sins' to amateur-style off-set sex with porn's hottest stars. Members can even see what really happens on a porn set with their behind the scenes clips. JamesDeen.com is also home to the infamous "Do a Scene with James Deen" which has brought never before seen amateurs to the web. All of this content and more is now available in 4K resolution with unlimited downloads and streaming for premium members. To see this top-notch content in all its glory, join JamesDeen.com now.
For promotional materials, JamesDeen.com is available in the JamesDeenCash.com network.
About James Deen:
James Deen is an established adult film star whose boy-next-door charm and relatable personality brought him immense popularity from diverse audiences around the world. In 2004 at the young age of just 18, Deen began his career in the adult film industry. Deen became the youngest male to ever win the Performer of the Year award at the AVN Awards in 2009, and is the only nominee to win Male Performer of the Year four consecutive years in a row at the XBIZ Awards. Deen continues to revolutionize how the world views the adult entertainment industry as a whole with riveting feature films through his company, James Deen Productions. He also has a continuously growing mainstream acting career. Deen guest starred in Showtime's 2015 dark comedy "Happyish", as well as starring as the leading man opposite Lindsay Lohan in Bret Easton Ellis's 2012 film "The Canyons", directed by Paul Schrader.  He also participated in an MTV pilot for the show "Slut Vs Prude" in late 2015, and was supporting actor in 2016's Diminuendo. Deen has been profiled in the likes of GQ Magazine, Glamour, Arena Homme +, Vogue Italia, Rolling Stone, Esquire, and many other media outlets. With his ever-growing popularity, Deen has taken on new roles in mainstream films, including producing, with various projects such as the 2013 film "Cowboys and Engines", starring Richard Hatch featuring Malcolm McDowell. Deen continues to expand his empire and brand with projects such as his ever-popular blog and online store, while still writing, directing and acting in adult films for his company. When asked about his inspiration behind the films he makes, Deen said, "I actually make movies for me, based on what I want to see. I literally go in with zero regards to who my audience will be and hopefully there is something everyone can enjoy." Even with his mainstream success, James Deen's dreams have always remained focused on the adult industry. When asked about his success, he exclaimed, "Seriously, I am the luckiest boy alive!" For more information visit www.JamesDeenProductions.com, www.JamesDeen.com, www.JamesDeenBlog.com, www.JamesDeenStore.com or follow him on Twitter at www.twitter.com/JamesDeen, and Instagram @JamesDeen.