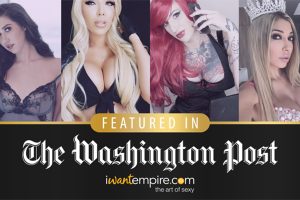 LOS ANGELES, CA – iWantClips fetish artists Bratty Nikki, Mistress Harley, Princess Breanna and Goddess Venus spoke about their experience in financial domination and why it's blowing up the Internet in a new Washington Post article.
"Nikki, Mistress Harley, Princess Breanna and Goddess Venus gave an excellent account detailing how they've become so successful on iWantClips," said Jay Phillips president and co-founder of iWantEmpire which operates iWantClips.
"Washington Post readers will get a great glimpse into the world of financial domination and how these talented women have been able to express themselves artistically and grow their brand by catering to their fans' needs through findom," Phillips added. "We are very proud to be able to offer media opportunities to our artists and appreciate the graceful bits of education they offer."
Written by Jennifer Swann, the April 11th article focused on how iWantClips artists interact with men who want to be dominated and told to spend money on the sexy artists as part of the financial domination fetish.
"I think it's the ultimate loss of control," Bratty Nikki told the site. "A lot of men are judged on how successful they are, and that is a good portion of what makes up their sense of self. When they say, 'Hey, I've earned all this, and this is what I've worked for, this is a huge chunk of what makes me me, and I'm willing to give that up for you.' I think they really enjoy that loss of power."
Likewise, Mistress Harley spoke about her work with one of her more extreme clients who enjoys being monitored on camera and has installed speakers in his house so she can order him around at her whim.
"You can see that I've made him sell all his stuff and even his bed, so he sleeps on the floor," Mistress Harley told the reporter. "He lives in Sacramento. I've actually been considering buying a house in Sacramento and making him rent it from me."
For Princess Breanna, engaging in findom was an easy decision: "I quickly got over the whole notion of 'That's weird, that's not acceptable,' and I embraced it," she says. "I think a lot of women experience this, and they're kind of taught to be ashamed of it like it's some form of prostitution."
About iWantEmpire: iWE, the art of sex! If you want sexy clips, flirty phone calls and exclusive behind the scenes social feeds – we have what you want! Founded on a deep respect for forward-thinking, sex-positive performing artists, and a love for state-of-the-art technology, the iWantEmpire and its subsidiary sites, iWantClips, iWantCustomClips, iWantPhone and iWantFanClub are the world's leading independent fetish, cam girl, amateur, gay, trans, and porn star clip / custom clip and phone chat platforms. The innovative network provides its artists with the highest payouts, daily payouts, vanity URLs, and other exclusive marketing tools. If you make clips, take custom clip orders, provide phone chat services or want to sell a subscription to your social feed – you will want to join the iWantEmpire and optimize your revenue streams. Own your content, own your future!