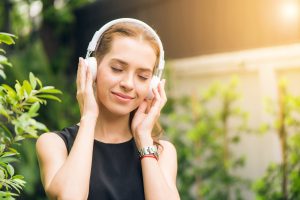 Audio can influence the pace and feel of any content, and sound itself is essential to porn. Be it conveniently placed royalty-free background music, stilted dialogue or the sounds of bodies slapping together, audio is key to setting the right mood.
What if, however, all you had was the sound? Can porn exist without the video?
In recent years, audio porn has been gaining interest. More discrete, faster downloading and cheaper than video or audiovisual porn, audio porn – by means of phone sex and erotic audiobooks – is the original form of consumer-grade erotica.
But, is it porn?
Pornography – literally, writings or illustrations on prostitution – is a visual depiction of sex or sexual content. This typically encompasses films, videos, pictures and magazines, but can also include drawings, paintings and sculptures that depict explicit sex. The definition of pornography becomes murkier when it comes to written material and sound recordings though, as more interpretation and fantasizing may be needed as compared to during a visual representation.
For some, that's the point. While the jokes about 50 Shades of Grey and content like it being "mommy porn" exist, being able to "figure out the puzzle" oneself may be more erotic to some than being presented a scene.
"When it comes to women and sex, you might be surprised to find out that a woman's most powerful sexual organ is her brain," Sadie Trombetta wrote for Bustle.
Trombetta continued, "A nibble on the ear might get her heart racing, a passionate kiss might heat things up, but the real way to quicken a woman's pulse is through her mind. For ladies, massages and making out can be great turn-ons, but nothing compares to the power the brain has over her sexual desire. Dirty talk, sharing fantasies, and intimate conversations work far better than a bottle of lube."
In a sense, an erotic audiobook allows one to be the director of their own porn. You can construct the scene how you like, with the interpretations that excites you. As sex is largely still taboo, such exploration can be healthy to break down what is important to you and what is important in your relationships.
In the Playboy article discussed by Jezebel, "Talk Dirty to Me: Deep Inside the Intimately Sexy World of Audio Porn," Nona Willis Aronowitz (via coverage written by Clover Hope) explained her first encounter with the format. "Audio magnifies whispers and swallows, humanizing the performer and creating a tangible experience that photography and video can't compete with … A voice comes from within a person and resonates with their whole body."
"That immersive intimacy makes audio a particularly fruitful platform for porn performers and consumers, who can take full control of a fantasy."
Audio porn may also have another point working for it: As with many other examples of porn, it tends to be absurd. While the plot lines and acting of adult content typically do not draw rave reviews (or, as outside critics fall into familiar derisive narratives that write porn off as campy or otherwise ludicrous), there is usually a payoff with the actual sex. Audio porn does not have the visual "absurdity" to contend with, but that doesn't mean consumers don't approach it without preconceived notions. There may be a disconnect from hearing sex to seeing sex that may leads to giggles and uncomfortableness. If one is willing to "go with the flow," this can be a good thing.
"Use the laughter," sexologist Eric Garrison said to Pulse. "Laughter increases oxytocin, a hormone that creates bonding, so laughter during sexual experiences helps connect you with your partner. It also reduces tension and stress so sex is more fun and unrestricted. Sexuality is a human experience, so the more humanistic traits we can put in there, the better it becomes."
So, is audio porn porn? That may be something only the listener can decide.
"I'm still flustered by its realism in a way that I haven't been by hardcore vids since middle school. I'm not the only one," Aonowitz concluded. "As I shared my favorite recordings with friends, no one reacted as enthusiastically as Raven, but several were so overwhelmed that they stopped listening mid-track. My most promiscuous friend told me he was 'scandalized,' while many more told me it was 'intense' or 'too much' or, most revealing, 'too real.'"
"It was the first time I'd heard that critique leveled at porn."
Photo by Tirachard Kumtanom.