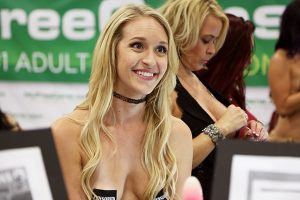 In response to comments he made about Stormy Daniels during an interview in Tel Aviv, Israel, and later upon on his return to Washington, D.C., people in the adult entertainment industry have been torching Rudy Giuliani with critical comments on social media and elsewhere.
"The business you were in entitles you to no degree of giving your credibility any weight," Giuliani said, in part. "Explain to me how she could be damaged. I mean, she has no reputation. If you're going to sell your body for money, you just don't have a reputation. I may be old fashioned, I dunno."
Giuliani later said he did respect porn stars but not "the way I respect a career woman or a woman of substance or a woman who… isn't going to sell her body for sexual exploitation."
To put it mildly, Giuliani's comments weren't well received by many in the adult industry, or Giuliani's peers in the legal community who represent those in the industry.
Some, like Daniels' friend Alana Evans, highlighted the irony of the timing of Giuliani's remarks, given some recent developments involving his now-sole client, President Donald Trump:
As #RudyGuilliani makes his absurd clams that porn star's have no reputation, I'd like to point out that a porn star just met with @realDonaldTrump at the White House and got a women's unjust prison sentence commuted. Kim Kardashian West #VIVID #RayJ

— Alana Evans (@alanaevansxxx) June 7, 2018
Performer/director Dana Dearmond noted the same irony, tweeting a photo of Kardashian with Trump in the Oval Office.
Does Giuliani realize that this woman is also a porn star? pic.twitter.com/lWTklkHDWg

— Dana DeArmond (@danadearmond) June 7, 2018
Outspoken performer Ginger Banks focused on the dismissive nature of Giuliani's comments with respect to the entire broader community of sex workers, noting how his blanket assumptions concerning their credibility has frightening implications for situations in which sex workers are victims of, or witnesses to, crimes.
Being a sex worker does not undermine your credibility as a witness. Once we realize this collectively as a society, we will begin to protect some of the most vulnerable people in our communities. https://t.co/9d5po2oCVv

— Ginger Banks (@gingerbanks1) June 7, 2018
Genderqueer performer Jiz Lee observed that, awful though Giuliani's comments are, there's a silver lining to him making the remarks.
As vile as he is, I'm glad these words are being said out loud to be criticized on a national level.

"If you're gonna sell your body for money, you just don't have a reputation." Giuliani questions @StormyDaniels credibility due to her profession.#SexWorkIsWork #LetUsSurvive https://t.co/tvlyNcN81n

— Jiz Lee (@jizlee) June 7, 2018
Ela Darling echoed Lee's sentiments in a sense, noting how heartening it was to see people come to the defense of sex workers in response to Giuliani's comments.
It honestly makes my day to see people who would never otherwise have considered the value and worth of sex workers stand up in our defense because of the words of the imbecile @RudyGiuliani.

Thank you to the non-SW people who use your voice right now to boost ours.

— Stoned Adulterer (@ElaDarling) June 7, 2018
Attorney Karen Tynan took Giuliani to task for assuming there are no "women of substance" among adult industry performers.
"A woman of substance do you say @RudyGiuliani?" I know lots of great women of substance in the biz. @whorenexxxtdoor @LotusLain @therealJuliaAnn @TheCrossXXX @gingerbanks1 and many, many more. You need to STFU. https://t.co/UDbA2uUXIM

— Karen Tynan (@KarenAttorney) June 7, 2018
Attorney Michael Fattorosi took the opportunity to point out to Giuliani that his dim view of the credibility of people who have appeared in works of adult entertainment may be something he should keep to himself, given who Giuliani is currently representing.
Giuliani says people in the porn business are not credible. Trump has appeared in three softcore porn videos. @CNNPolitics https://t.co/7d8SlVyIcJ

— Michael Fattorosi (@pornlaw) June 7, 2018
TakeDownPiracy's Nate Glass, meanwhile, opined that Giuliani's comments might make for uncomfortable reading on the part of those in the adult industry who support Trump.
Tough day for those in the porn industry that support the Trump Administration's outright racism, but now see how people like Rudy Guiliani think you are garbage.

— Nate Glass (@tdpnate) June 7, 2018
The Free Speech Coalition weighed in with both a tweet thanking Meghan McCain for coming to the defense of sex workers, as well as an open letter to Giuliani.
"Sex Work is Work" – thank you @MeghanMcCain for helping our communities fight the stigma against consensual sex work! And yes, we are probably "the only industry where women make more money then men", but we shouldn't be. #LetsFixThat #WomensMarch #LetUsSurvive #UnitedWeStand https://t.co/0l3uE1kcf7

— FreeSpeechCoalition (@FSCArmy) June 7, 2018
"As the trade association for the adult industry, we were appalled by your remarks this morning about Stormy Daniels," the FSC wrote in its letter. "Sex work is real work, and the way a sex worker makes their living has nothing to do with whether they should be afforded respect or equal protection under the law. The credibility of a woman's word should not be grounded in her chastity, or how she dresses, or how she earns a living."
The full text of the FSC letter to Giuliani can be read here.