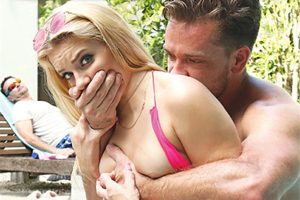 Sexy spinner Riley Starmight be a tiny girl, but she's clearly making a big impression in the adult industry.
She has a ton of hot new scenes and several box covers to go along with many of them. Those boxes include Blonde Fucking Ambition (AMK), Filthy Family 4 (BangBros), Forbidden Family Affairs 14 (Team Skeet) and Daddy Loves His Stepdaughter (Penthouse).
Not bad for young blondie who weighs in at only 95 pounds. She also has several more DVDs new in stores now: As Natural as They Cum 3 (Archangel), Spring Break Fuck Parties 15 (Team Skeet), Mother-Daughter Exchange Club 60 (Girlfriends), Daddy Fucks Me the Best (ATKingdom) – to name a few! Hussie Models is keeping this little beauty busy.
On the covers of both Filthy Family 4 and Forbidden Family Affairs 14 fans will see her getting fucked while her relation holds a manly hand over her pretty mouth. In Forbidden Family Affairs 14, she's just moved to town and her cousin Kyle isn't too happy to see her, but it doesn't take long seeing her by the pool for him to reconsider. Watching her uncle apply sunblock to her young skin gives him a jealousy boner and soon he moves in. When she whips out his cock it smacks her in the face, it's so much bigger than she expected! Soon they have a poolside bang while her uncle sleeps in a chair nearby. How he slept through his screams, who knows. Might want to check that pulse!
Things unfold pretty similarly in Filthy Family 4, as she takes another family member's big cock as another guy very nearby inexplicably sleeps through the fun. Continuing the family fun is Daddy Loves His Stepdaughter, which, if the title is to be believed (it is!), Riley gets it on with stepdaddy (Tommy Gunn). The get it on right there in the driveway in the middle of the day on a car. It's a hot romp, even Riley's mom would have to agree with that.
In Blonde Fucking Ambition we get a little more conventional pairing, seeing the lovely young lady get it on with someone completely outside the bloodline or anything close to it and in a bed. But don't be scared, it's a hot scene nonetheless. In As Natural as They Cum 3 it's a stiletto-heeled romp on the couch, while in Spring Break Fuck Parties 15 she is joined by soccer teammates Aspen Celeste and Ella Knox. Ricky and Kyle film them as they stretch and warm up and when the girls ask about the camera, the boys invite them over. Their invitation is accepted and it pays off for both teams.
Mother-Daughter Exchange Club 60 matches her up with "mama" Alura Jenson. Riley has been exploring her sexuality both boys and girls and her mom hooks her up with one of her friends to show her what it's like being with a real woman. Licking, toys and orgasms galore! And finally, in Daddy Fucks Me the Best Riley gets it from another daddy and, as the title says, he doesn't screw anyone as well as he screws his little girl.