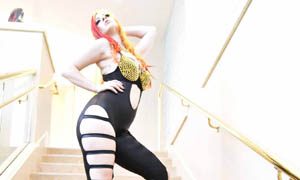 Award-winning, international Luxury Mistress & Fetish Model Goddess Lilith is now on Cliptress and she's made a smashing debut by stealing the Number 1 spot for the entire site.
Cliptress is the newest clip site on the block. Goddess Lilith has posted over 30 clips with a variety of fetishes, including armpit fetish, ballbusting, cuckolding, facesitting, financial domination, humiliation, trampling, and much more.
To celebrate her Number 1 status on the site, she has posted a six-minute clip, "Cuckoldress Brings Home Alpha Male to Meet Her Cuck Husband, that's exclusive to Cliptress. The premise of is Goddess Lilith coming from a hot date only to find her pathetic cuck husband waiting for her on his knees. Her Alpha Male date has come home with her and the pair are laughing at her poor hubby. Goddess gives him the ultimate punishment—she orders him to crawl underneath the bed into his cage and listen to her and her Alpha Male date going at it all night long.
Check out her Cliptress store for this exclusive clip. And while you're there, buy a clip or 10 and worship your Goddess with a tribute.
"I'm extremely happy to have captured the Number 1 spot on Cliptress and I intend to stay there," says Goddess Lilith. "If you want to worship Me correctly and stay in My good graces, you will buy my clips and shower me with tributes."