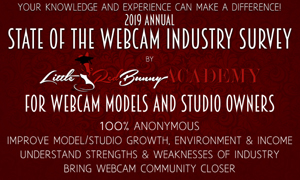 LittleRedBunny Academy announced the release of an annual State of the Webcam Industry Survey for all webcam models and studio owners, with a goal to better understand the strengths and weaknesses of the industry and to improve productivity, revenue, working conditions and to bring the webcam community closer together.
The survey will be available from January 15 to April 15 and investigates the demographics, work habits, earnings, products and technology used, practices, experience and feedback of independent models, studio models and studio owners across the globe. No identifying personal information will be required, and all participants will remain completely anonymous.
This examination of the industry will also include information to help the supporting and ancillary companies providing services to the webcam industry. The data collected by the survey will help end speculations on the inner workings of webcamming, eliminate myths, and accelerate the growth of the industry.  
"I think there's been a lack of knowledge and understanding about some areas of the webcam industry: where it is, where it's going and how it's viewed from the eyes of the people who are the foundation," said LittleRedBunny, a multi-award-winning webcam model, industry icon and founder of LittleRedBunny Academy. "And while some platforms and businesses have conducted inter-company surveys, no one has taken a broader, more in-depth look at models and studios across all parts of the industry and the globe. I am thrilled and excited to see what positive results can happen from this. And I do believe this is a first in our industry!"
With two separate surveys tailored for webcam models and studio owners, the intent is to annually gather, compile, share and implement the data into the daily functioning of the industry. This feedback will start to build a more defined picture of the needs and working conditions among the people who make up the backbone of a fast growing multi-billion-dollar business.
"When you go to industry events outside the U.S., most models and attendees are from studios, primarily Romania and Colombia, with Russia and Ukraine studios starting to make a bigger presence recently," said Chris "CK" Korhonen, business partner of LittleRedBunny and a public relations specialist. "Industry events in the U.S. are even less diverse with the majority of models being American. So there tends to be a partitioned and incomplete view and understanding of the needs, motivations and behaviors of people across the industry. Our hope is this survey will discover data which will better define commonalities and differences while improving the approach, execution and outcomes in the industry for the benefit of everyone everywhere."
Over the next three months, a marketing campaign will be implemented to spread the word about the survey among studios and webcam models across the globe to take part and get as many different voices and participants as possible.
"The ultimate goal is always to improve work environments, income and overall well-being at all levels of the industry, including among platforms and other businesses involved with webcamming," LittleRedBunny added. "I hope every model who does the survey tells other models to take it, and every studio owner who hears about this survey will not just take it but also tell their models and other studio owners to participate as well. I see contributing to this survey as not only an opportunity, but a responsibility to help improve an industry that many people, including myself, really love being a part of. My hope is this will be many little steps towards big change and improvements for everyone."
Depending on answers, the Model Survey should take approximately 15-20 minutes, and the Studio Owner Survey should take approximately 20-25 minutes so please plan accordingly. To take the 100% anonymous survey and for more information, you can go to LittleRedAcademySurvey and be a part of this historic event.