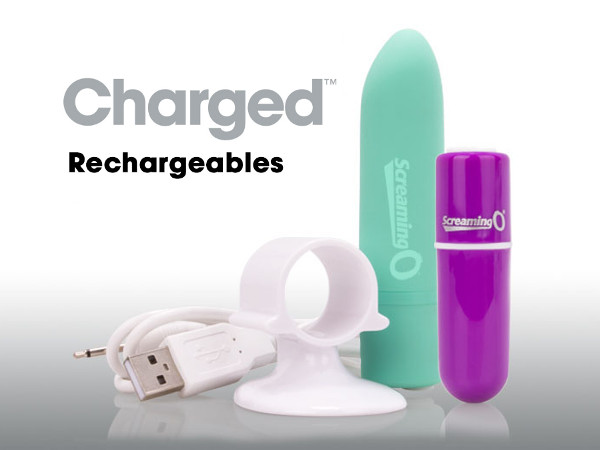 LOS ANGELES – Most people don't spend a lot of time thinking about batteries. They fit the product or they don't; they work or they don't. Other than that, folks just don't ruminate on their portable power supplies — or they didn't until Samsung's phone-meltdown debacle last year.
Pleasure product manufacturer Screaming O, however, has given batteries a lot of thought — especially the ones in the company's new Charged line of rechargeable toys. Screaming O chose a lithium-ion polymer, or Li-poly, battery for the collection they are safer and more reliable than traditional batteries. They can be very small, too, which doesn't hurt.
Li-poly batteries contain a gel core, allowing them to be as thin as a credit card and more resistant to leaks and overheating than their predecessors. Tests convinced Screaming O's designers that Li-poly's modern technology, coupled with a safer design, made it a smarter choice for something people will be using on, in or near their most sensitive skin.
"The final choice was clear," said Screaming O Account Executive Conde Aumann. "Evidence showed that a Li-poly battery would benefit consumers the most with its safety and dependability. In addition to our custom-built rumbling Vooom vibration technology, Charged stands out from the competition because of its attention to important details like these. Not all rechargeable batteries are created equal, and Screaming O made sure to select the superior option."
Charged is a complete line of rechargeable mini vibes and vibrating rings capstoned by the Charged Positive, a larger bullet-shaped massager that features the most powerful motor ever to come from Screaming O. Charged is USB-rechargeable and 100-percent waterproof and comes with a two-year warranty. Screaming O provides retailers with a cohesive, fully merchandised display supported by free custom graphics and signage.
"We were careful about the elements we chose to give the 'Screaming O Treatment' because we wanted to make an impact that also benefitted our customers' bottom lines," Aumann said. "Rumbling vibration plus safer, hassle-free charging — with the bonus of affordable price points — equals happy customers all around."
For more information, visit ScreamingO.com or email Aumann at conde@thescreamingo.com.