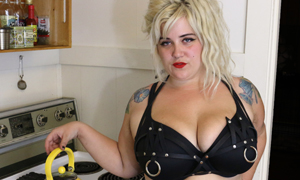 Blonde bombshell Genevieve LaFleur is porn's newest angel with curves, and she's making a splash with every scene and interview.
YNOT sat down with Genevieve to discuss the fetishization of BBW performers. Written by Hannibal Missouri, the article titled "BBW Struggles in L.A. with Genevieve LaFleur" looks into the particular standards of beauty in Tinsel Town, and how Genevieve navigates Los Angeles and Porn Valley as a plus-size performer and makes it work for her.
The industry as a whole seems to be embracing the voluptuous woman with more companies shooting BBWs, leaving behind the fat shaming and being more encouraging about performers of different shapes and sizes. Genevieve also discusses all women have been fetishized for one thing or another and gives an example of a guy who had a fetish for rain boots. Missouri touches on several topics of the positives and perils of being a BBW in adult and the world, but the most important takeaway is when Genevieve says that "size isn't an indicator of physical health," and she and other BBWs have to be more than hot to get booked.
Read the article in its entirety and see some glamorous shots of the rising star at YNOT.
"As a new performer, I was happy that YNOT came to me to get a fresh outlook on the industry, companies, and the reality of being a curvier girl on and off set," says Genevieve LaFleur. "If you're a fan of BBWs, you will enjoy it. If you're not a BBW admirer now, you will be. You just have to see that beauty, brains, and talent are what make BBWs the total package."
Genevieve also interviewed with the infamous Captain Jack for Adult DVD Talk, which should be available for fans in the next week or two.
To interview Genevieve LaFleur for your site, show, or publication, contact Erika Icon of The Rub PR at erika@therubpr.com.