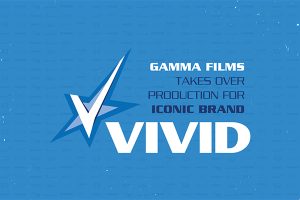 Montreal, QC — Gamma Films and its Head of Production Bree Mills have officially taken the reins of Vivid Entertainment's content production, per their partnership deal in June. Gamma Broadcasting Group, Inc. will maintain the daily operations for Vivid TV.
Mills is aiming to launch the brand's first original series, "Vivid Girls," a nod to referring to the iconic studio's famous contract stars, by shooting its inaugural scene in November with one of adult's most popular leading ladies — but they're not saying who! The series will debut in January 2019, to coincide with the forthcoming launch of Gamma Films' master brand for all its studio sites and exclusive original programming.
As one of the industry's fastest-rising and most-respected companies, Gamma Films is a natural fit to revamp one of adult's most iconic brands, taking Vivid's roots — model showcases, big budget features and mainstream appeal — and re-imagining them under the leadership of a top woman filmmaker. Ideally, this shot in the arm will appeal to a new generation of fans.
"I have great confidence that all of Vivid's fans will be excited by the exceptional, high quality films that Bree will produce for the brand under Gamma," said Steven Hirsch, Co-CEO of Vivid Entertainment.
"She is well aware of our history and Vivid's groundbreaking role in the industry. We know she is determined to make Vivid's star shine even brighter," Hirsch added.
Gamma and Mills remain committed to the integrity of Vivid's original titles, with strong ties to the adult industry and a deep admiration for its origins in quality camera work, storytelling and direction.
"This unique and monumental partnership is a true gift," Mills enthused.  "Vivid is a legendary brand and one that has touched so many people in this business, not just for being a source of great content and beautiful stars, but also for being the training ground for so many talented people in this industry. I'm very excited to help bring it back to its rightful place as a top producing studio!"