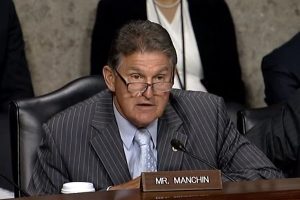 WASHINGTON – In its lawsuit challenging the constitutionality of the Allow States and Victims to Fight Online Sex Trafficking Act (FOSTA), the Woodhull Freedom Foundation and its co-plaintiffs reference legal precedent set in a wide variety of prior cases.
On Capitol Hill this week, a different sort of 'precedent' involving FOSTA predictably reared its head.
In a Senate Intelligence Committee hearing held Wednesday, West Virginia Sen. Joe Manchin analogized the human trafficking targeted under FOSTA to drug trafficking – and wondered aloud about the possibility of carving out a FOSTA-like exception to Section 230 of the Communications Decency Act hold accountable websites and platforms allegedly being used by drug traffickers to promote and distribute opioids and other drugs.
"Just like how we passed FOSTA and SESTA, we passed bills that held you liable and responsible," Manchin said. "Don't you think we should do the same with opiate drugs and the way they're being used in your platform? Would you all support us doing that?"
The "you all" Manchin was addressing in his questions were Twitter founder Jack Dorsey and Facebook COO Sheryl Sandberg, who were unsurprisingly noncommittal about the idea of embracing another carve-out to Section 230.
Sandberg noted it is "firmly against" Facebook policy to allow the sale of drugs, pharmaceutical or otherwise, through the platform. She also pointed out that Facebook recently began requiring treatment centers (which might use drugs in their rehabilitation courses) that advertise on Facebook to be certified by a third-party service.
Twitter prohibits selling drugs too, of course, and Dorsey said the company is "looking deeply at how this information spreads and how the activity spreads" on the platform, so the company can shut it down more quickly and effectively.
Beyond that, Dorsey said his Twitter is "certainly open to dialogue" about Section 230 and the "evolution of it," while observing the protections provided by the safe harbor are beneficial and necessary to his company.
"We benefit from a lot of the protections (Section 230) gives in order for us in the first place to take actions on the content within our service," Dorsey said. "The only reason we are able to even speculate that we can increase more health in a public square is because of CDA 230, so we need to finely balance what those changes are and what that means."
His somewhat tortured syntax aside, Dorsey's response raises an important point. While many people think only of the protection from liability for content posted by third-parties Section 230 affords to platforms like Twitter, it also gives companies legal cover to remove and block problematic content without being considered a "publisher" which has editorial control over all the user-generated content on them.
"Would it change you all's approach of how you use your platforms, with the changing of the 230?" Manchin asked in follow up.
"We have to do that independent of changes to 230," Dorsey responded.
In her response, Sandberg echoed Dorsey in nothing "the safe harbor of 230 has been very important in enabling companies like ours to do proactive enforcement, look for things proactively without increasing our liability, and so we'd want to work very close on how this (change) would be enacted."
While I don't want to put words in their mouths, my hunch is that being "open to dialogue" and wanting to "work very closely" with Congress on any amendments to Section 230 roughly translates to: "Our lobbyists will be speaking to you shortly about why this is such a terrible idea."
That said, companies like Twitter and Facebook can and should expect to hear more elected officials calling for additional carve-outs to be made the Section 230 safe harbor provisions. This sort of urge on the behalf of our national-level legislators was to be expected following the passage of FOSTA. Manchin probably isn't the first one to propose further changes to 230, and he won't be the last. In fact, only two weeks have passed since one of Manchin's colleagues on the Senate Intelligence Committee, Sen. Ron Wyden, predicted his peers would soon call for additional changes to the safe harbor provisions.
In Washington, the sort of political precedent set by the passage of FOSTA often proves just as important the legal ones. Once legislators get a taste of the benefits of pandering to a given set of lobbyists, or a particularly influential special interest group by "getting tough" on a headline-grabbing type of crime, or "closing a loophole" in an existing law, they look for other opportunities to repeat that political success.
It's hard to say whether the changes to Section 230 envisioned by Manchin (or those feared by Wyden) ever come to pass. What's easier to predict is we'll hear more bright ideas from others in the Senate and House about ways they'd like to undermine Section 230 to address some societal ill – or maybe just to give their poll numbers a bump.