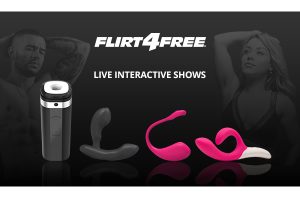 From the advent of streaming recorded content to VR and live broadcasts, adult entertainment on the internet is constantly evolving.
It's in this spirit that several adult novelty brands and lines have also evolved, especially related to teledildonics. These interactive devices were conceived with long-distance relationships and public play in mind. Several companies, however, soon also saw their potential in the live chat environment. With these expanded and increasingly popular uses in mind, Kiiroo, We-Vibe and Lovense are just a few who have worked to perfect the use of their products via apps and over distances.
Flirt4Free was the first live cam network to bring two-way interactive sex toys to the space, adding another layer of interactivity to the model-client experience. Toys that give models and their fans the ability to safely express themselves physically can intensify the experience, as well as offer viewers a way to heighten the sense of immersion experienced during a live show.
Flirt4Free's foray into interactivity began with the Shockspot Sex Machine/V-Stroker Fleshlight attachment combination, and then moved to the first version of Kiiroo's Onyx and Pearl before working with Kiiroo to integrate the FeelApp into their platform. This last development broadened the variety of available interactive toys and their functionality.
By connecting devices to the site through the app, users can connect to a model's toy. As a show progresses, the touch-sensitive technology can echo the model's movements in it — and vice versa. For the models who have embraced this tech, interactive sex toys prove profitable and also allow them to enjoy their own performances even more.
Popular hardcore duo Crhistian and Dereckk have recently introduced two Kiiroo toys — the Onyx2 and the Fuse — into their private shows.
"It's way more fun because it's not just us feeling everything. The customers can feel what we do. So there's a stronger connection, even with a great distance between us," Crhistian said.
Dereckk offered up a specific example.
"One of the best shows is when I tied Crhistian up, then used the toys to let the customers drive him wild," he shared. "That really made him moan and brought in some fantastic tips. There's really no other experience like it on cam."
Up-and-coming cam model Antonela Adams also brought the Fuse to her fans.
"I've never had a toy like this before," she explained. "I've always used toys in private shows, and these are the coolest. Not only do the customers get to feel the pleasure along with you, but they offer different sensations depending whether you use your hand or mouth on it or put it inside you. It makes privates way more dynamic."
Lovense produces the most popular tip-responsive sex toys in the camming world. The pink antenna of the Lovense Lush has become a hallmark in chatrooms across the internet, and Flirt4Free recently added support for Lovense to their site. This is an important development because the preeminent sex toy company has their own line of 1-way and 2-way interactive toys.
With compatibility for devices like the Nora Rabbit Vibrator and its counterpart, the Max Male Masturbator on Flirt4Free's priority list, members will soon have access to an even wider range of immersive, interactive fun.
The camming industry must evolve alongside both the demands of adult content fans and the constant technological advancements to the way people form connections. To that end, Flirt4Free recently partnered with ModelClips.com, a unique site that adds interactive capability to existing video content. Flirt's cam stars can export their videos to ModelClips, and fans can interact with them using the same devices they would in the chatroom.
Via interactive sex toys, Flirt4Free continues to expand the model/fan relationship, offering both parties a completely unique experience — one that incorporates the sense of touch, a development once thought to be unattainable in the world of web-based adult entertainment.