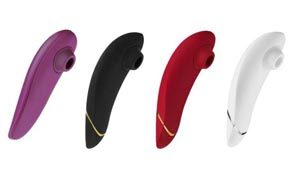 Entrenue is officially shipping the Womanizer Classic and Womanizer Premium, two groundbreaking clitoral stimulators powered by Pleasure Air Technology. Now featuring revamped shapes and new color options, the Womanizer Classic, now considered the "little black dress" of the company's air pulsators, gives users eight intensity levels and an effortless suction effect while the Womanizer Premium offers an entirely new experience.
The Womanizer Premium is the latest innovation from the wildly successful Womanizer family, now featuring functionality never before seen by a Womanizer product. The waterproof, USB-rechargeable Womanizer Premium features a slim design that fits comfortably in the hand and a game-changing Autopilot feature that instinctively adjusts the toy's intensity to create surprising patterns and unexpected rhythms. With 12 super-quiet levels to choose from and a new Smart Silence function that automatically activates the motor when users touch it to their skin, the Womanizer Premium is the perfect combination of new technology and quality design.
The Womanizer Classic is a simplified Pleasure Air Technology-equipped device in a sleek new shape that provides contactless suction effects in place of traditional vibration with a price that attracts new and curious shoppers. This waterproof toy features Silent Mode for discretion, eight intensity levels, and an extra-large silicone stimulation head to ensure a perfect fit for all users.
"We love the high-tech updates and modern design revamp in the Womanizer Premium and the Womanizer Classic. The Womanizer brand is a tried-and-true seller," Entrenue CEOwner Joe Casella said. "The Premium's Autopilot pleasure patterns let users ride the waves with an air of spontaneity that adds to the experience, and the whisper-quiet Classic's Silence Mode makes it even more discreet to use. Womanizer is the original air-powered product maker, imitated but never duplicated, and a brand our customers can trust – we are proud to be a partner and distribute these products nationwide."
The Womanizer Premium and Womanizer Classic are made with ABS with soft touch elements, hypoallergenic medical silicone heads, and feature sensual, slim shapes that fit comfortably in the hand. The Womanizer Premium is available in three color combinations – Red with gold accents, Black with gold accents, and White with chrome accents – it is packaged in a new eye-catching box featuring a display window that showcases the product inside. The Womanizer Classic is available in Classic Purple.
The Womanizer Premium and Womanizer Classis come with two different-sized silicone caps that are easily removable for cleaning, a high-quality storage bag, and a magnetic pin USB charging cable. A 2-hour charge provides a full 240 minutes of play time, and each Womanizer product is covered by a 2-year warranty.
To view the Womanizer Classic, Womanizer Premium, and the rest of Entrenue's newest catalog, please log into your account at Entrenue to start browsing!
To place an order, please call (800) 368-7268, email info@entrenue.com.