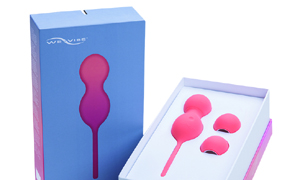 PHOENIX, AZ – Entrenue is now shipping the We-Vibe Bloom, a kegel exerciser featuring interchangeable weights, rumbling vibration, and now-famous We-Connect app control. Bloom is designed to allow users to easily progress through different weight levels as their pelvic strength increases and, unlike most others in the category, Bloom features We-Vibe's signature vibration to incorporate pleasure into users' intimate health routines.
Bloom's rechargeable, waterproof body boasts a smooth silicone exterior with three interchangeable weights (10g, 30g, 45g) that screw securely onto the vibrating base. The strong motor delivers rumbly vibrations controllable via the We-Connect app, which lets users to operate multiple We-Connect devices at once, and allows long-distance lovers looking to support each other's We-Vibe pleasure from afar. Bloom also can be enjoyed sans smart phone for an analog experience that results in intimate pleasure that helps strengthen the pubococcygeus muscles all at the same time.
"Kegel fitness remains a concern for many people and a strong-selling category for us, and we're thrilled to offer a support tool with the trusted We-Vibe name," says Kim Maty, Entrenue's Senior Account Rep and Buyer. "Bloom is a thoughtfully designed product and engineered not only to develop pelvic floor strength, but also add pleasant vibration to make the process even more enjoyable. This feature sets Bloom apart by bringing pleasure and pelvic floor health together in one convenient and versatile product."
With 10 vibration modes, Bloom is made of coral-colored body-safe silicone, 100% waterproof, USB rechargeable, and features a low-power alert. As with all We-Vibe products, the Bloom is backed by a 2-year warranty.
A retailer kit is available with minimum purchase and includes a universal stand, tester product, and info card.
To view Bloom and the rest of Entrenue's newest catalog, please log into your account at www.entrenue.com to start browsing!
To place an order, please call (800) 368-7268, email info@entrenue.com or visit Entrenue.com.