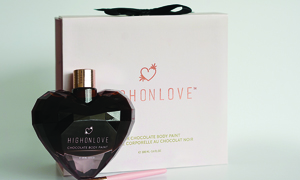 Entrenue is officially shipping High On Love sensual cosmetics, a luxe spa-quality line of sensual cosmetics made with high-quality hempseed oil. Known for its hydrating and skin-nourishing effects, hempseed oil is used as the base for a range of beautifully packaged products, including massage and bath oils, stimulating orgasm oil, and dark chocolate body paint made with 100% natural ingredients.
Entrenue has hand-selected five High On Love products for its catalog:
Dark Chocolate Body Paint: Made with 100% natural ingredients and packaged in an eye-catching heart-shaped glass bottle with its own paint brush.
Sensual Bath Oil: Creates a soothing, calming lavender vapor in warm water.
Sensual Massage Oil: Available in two aromas, this unique formula can be consumed and does not leave a perfume-y aftertaste.
Stimulating O Gel for Women: A water-based blend designed to create a satisfying physical sensation and experience.
Stimulating Orgasm Oil: Designed to deliver transformative enhancement for those experiencing vaginal dryness, discomfort, or decreased libido.
"We're very excited about High On Love; it's exactly what we look for in an intimate cosmetic brand," Entrenue CEOwner Joe Casella said. "The selection is unique, and each product is packaged in a way that beautifully captures the special benefits of hempseed oil. The aromas, the presentation, and formulation quality make High On Love a genuine stand-out, and their fair price points are sure to please our customers. There's nothing like this on the market."
High On Love is a female-founded, Canadian-based company, and each product was made and designed by a team of women.
"High On Love was designed for the woman who not only appreciates quality but also something esthetically pleasing – a woman like myself," High On Love Founder Angela Mustone said. "Considering I was my own target market, I put a lot of heart in making these products. I really stressed using the best ingredients for my oils and gels, as they are to be used on and around many different intimate areas. I also went all out in the packaging because I wanted to deliver something beautiful and truly appealing, products you'll want to show off on your nightstand!"
High On Love products are ideal for stores looking to expand their intimate cosmetic, bath and body care, and sensual accessory selection. Entrenue customers have access to a range of luxe High On Love swag to great a customized marketing campaign in support of the unique brand – contact your Entrenue representative to get started today!
"I have a long history working in the adult industry and I have always wanted to work with Entrenue," Mustone said. "The fact that Entrenue had an interest in High On Love was an absolute honor, and now that Entrenue is carrying my products, I could not be more thrilled!
I am truly looking forward to working with Entrenue and can't wait to see what 2019 has in store for us!"
To view High On Love and the rest of Entrenue's newest catalog, please log into your account at Entrenue to start browsing!
To place an order, please call (800) 368-7268, email info@entrenue.com or visit Entrenue.com.
This year marks Entrenue's 25th anniversary! Sign up today and help Entrenue celebrate with specials and exclusives available to Entrenue customers only!