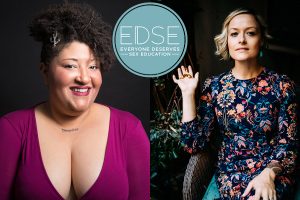 LOS ANGELES – Educational organization Everyone Deserves Sex Ed (EDSE) announced today that it has invited "sex edutainer" Dirty Lola to train attendees of EDSE's upcoming 25-hour sex educator certification program, which is scheduled April 18-19 and 25-26 in Los Angeles.
In its announcement, EDSE said Lola will host "a high-energy discussion of sex toys, lubricants, and adult products, giving attendees a stronger, more informed understanding of the role they can play in healthy sexual development."
Known for her live sex education Q&A show "Sex Ed A Go Go" and as co-host of The Cut's (New York Magazine) "Sex Probz" web series, Lola has spent almost a decade working "to end stigma and shame surrounding sex and sexuality," EDSE said in its announcement. "Having started her journey sharing personal discoveries with polyamory and kink online, Lola now uses her knowledge, warm candor and public platforms to teach the masses in-person and to rapt Internet audiences."
Lola said she has "made a career addressing lack of access to accurate sex education, especially to underserved and marginalized communities."
"I'm looking forward to joining the EDSE team again this spring," Lola added. "I use a friendly, no-holds-barred approach to teaching sex ed in order to help make space for these kinds of important conversations. As a self-proclaimed 'dildo slinger,' talking about sex toys is one of my sweet spots and I can't wait to enlighten EDSE attendees on the vast array of sexy stuff people can use to make sex even more fun."
In addition to her educational projects, Lola also manages "SHAG," a female-owned and operated sex shop based in Brooklyn, and has brought her sex-positive sex education to events and venues across the country, including The Sex Expo, Baruch College, Hofstra University, and the University of New Mexico.
EDSE founder and lead educator Anne Hodder-Shipp, said she asked Lola to teach this portion of the certification because of her sex toy expertise and focus on harm reduction, which allows her to meet people at their level and make space for growth.
"Lola is beloved in so many communities and her active, passionate discussions of various sexuality subjects online have helped spark much-needed change," Hodder-Shipp said. "She loves teaching and certainly knows her way around a sex toy shop, which is what makes Sex Toy 101 especially fun and engaging for EDSE attendees. I'm really looking forward to working with Lola again."
The EDSE certification program is designed to prepare attendees to have "informed, inclusive and confident conversations about sex," the EDSE said in its announcement.
"Over the course of two weekends, EDSE attendees will learn key information about human sexuality, intimate health, consent, and communication skills and be trained to respond to sex-related questions in a concise, intersectional, and nonjudgmental manner," EDSE added. "Attendees also will leave with new insight into their own sexuality — a fun side effect of sex education training."
The next EDSE certification takes place April 18-19 and 25-26, 2020, in Los Angeles. Individual certification is $2,095, and payment plans are available to those in need. To apply, fill out the form at https://everyonedeservessexed.com/certification/. An EDSE representative will review and be in contact within 48 hours of submission, the EDSE said.
"During my time as a sex educator, and a sex blogger before that, there was one thing I noticed most people had in common: a lack of confidence in, and even a little fear about, talking about sex," Hodder-Shipp said. "This insecurity has a dramatic trickle-down effect. It leaves professionals feeling unprepared for workplace dynamics, parents terrified of having 'the talk,' and service providers caught off-guard during sensitive conversations with their clients. My goal with EDSE is give people access to the kind of professional and educational support so many of us have lacked throughout our personal and professional lives."
For more information, visit https://everyonedeservessexed.com/certification, or email Hodder-Shipp directly at anne@everyonedeservessexed.com.