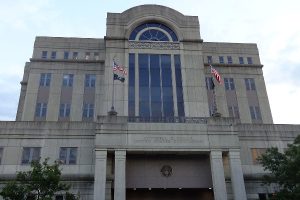 CAMDEN, NJ – In an order issued late last week, United States Magistrate Judge Joel Schneider denied a request from Strike 3 Holdings for expedited discovery in a case where the adult entertainment company is seeking to unmask the subscribers behind IP addresses associated with the alleged piracy of Strike 3 content. Strike 3 is the entity which holds the copyrights on content produced for the popular adult brands Tushy, Vixen and Blacked, among other properties.
In the opinion explaining his decision, Schneider wrote that the "fundamental basis of the Court's decision is its conclusion that, as pleaded, Strike 3's complaints are futile."
"The Court denies Strike 3 the right to bootstrap discovery based on a complaint that does not pass muster under [Federal Rule of Evidence] Fed.R.Civ.P.12(b)(6)," Schneider wrote. "Further, even if Strike 3 pleads a cognizable copyright infringement claim, the Court would still deny its requests for expedited discovery."
Schneider went on to specify seven reasons Strike 3 doesn't have good cause to request expedited discovery, including his assessment that the company "bases its complaints on unequivocal affirmative representations of alleged facts that it does not know to be true," that Strike 3's subpoenas are "misleading and create too great of an opportunity for misidentification" and that the "linchpin" of Strike 3's good cause argument, "that expedited discovery is the only way to stop infringement of its works" is simply wrong.
The judge also wrote that Strike 3 "has other available means to stop infringement besides suing individual subscribers in thousands of John Doe complaints" and that the "deterrent effect of Strike 3's lawsuits is questionable."
In his opinion, Schneider also made it clear that he's not unsympathetic to the plight of rightsholders like Strike 3 – and was explicit in stating that his decision has nothing to do with the fact the content at issue is pornographic.
"It is not lost on the Court that its ruling may make it more difficult for Strike 3 to enforce its copyrights against potential infringers," Schneider wrote, quoting the Third Circuit Court of Appeals in adding that "[c]ourts must enforce the law even when the results seem inequitable."
"The fact that Strike 3 is involved in the adult entertainment business is irrelevant to the Court's decision," Schneider added later in his decision. "Unless Congress or the courts carve out an exception for pornography, which has not been done to date, Strike 3's lawful copyrights deserve as much or as little protection as the law provides."
Despite the court's sympathy for Strike 3's desire to protect its copyrighted works and to deter infringement, Schneider observed that "a legal remedy does not exist for every wrong" and "Strike 3 is not entitled to relief simply because it was wronged."
Schneider's decision, which runs 47 pages long, is very detailed and addresses at length each of the deficiencies the judge found in Strike 3's request for expedited discovery – and the company's underlying copyright claims, given the facts at hand in its 'John Doe' filings. The fundamental problem, however, is simple: Schneider isn't persuaded the company has enough evidence to confidently and specifically accuse the subscribers behind these IP addresses of any wrongdoing.
"Strike 3's complaints are devoid of facts sufficient to show it is entitled to relief from the named John Doe/IP subscriber," Schneider wrote. "The only material fact pleaded in Strike 3's complaints is that the listed IP address is associated with the downloading of Strike 3's works and the John Doe is the subscriber of the address. All other material averments in Strike 3's complaints, e.g., that the John Doe subscriber downloaded Strike 3's works, are conclusory statements, not facts. If Strike 3's complaints are stripped of their conclusory statements, they are left with the notion that merely subscribing to an IP address that downloaded copyrighted works is sufficient to make out a cause of action for copyright infringement. This is not sufficient."
In the decision, Schneider later reiterated that he is "not unsympathetic to Strike 3's argument that without the requested discovery it may not be able to identify alleged copyright infringers," adding that nobody can "argue with the notion that Strike 3 has a right to protect its copyrights."
"However, the fact that the law lags behind technology is not an ill this Court can cure," Schneider wrote. "The Court will not create a remedy for Strike 3 that does not exist under existing law."
Quoting a different court's holding in another Strike 3 case, Schneider added that the "enforcement problem that peer-to-peer file sharing technology creates for copyright owners is one that Congress could choose to remedy at any time."
"The fact that Congress has not acted, however, does not mean that courts should take it upon themselves to provide more effective enforcement mechanisms to potential plaintiffs," the quotation continued. "[The Court] conclude[s] that Strike 3's concern about its ability to enforce its copyright against peer-to-peer sharers is a valid one, but not one that provides good cause to depart from otherwise applicable discovery rules."
Schneider added that even if he found that Strike 3's complaints would survive a motion to dismiss, he would still deny the company's request for expedited discovery "based on the totality of the circumstances."
In concluding his opinion, Schneider reiterated his understanding that the Court's ruling "may make it more difficult for Strike 3 to identify copyright infringers," but added that "to the extent this is the price to pay to assure compliance with the applicable law, so be it."
"A legal remedy does not exist for every wrong, and it is unfortunately the case that sometimes the law has not yet caught up with advanced technology," Schneider wrote. "This is not the first time, nor will it be the last, where a party who believes it was wronged was denied discovery."
Image of Judge Mitchell H. Cohen Federal Building and Courthouse by Hudconja, shared under the Creative Commons Attribution-Share Alike 3.0 Unported license