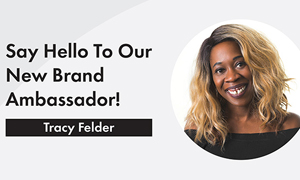 Cyberspace — COTR, Inc. is pleased to announce the addition of Tracy Felder to the team. The retail industry vet brings hands-on experience to the role of Brand Ambassador of the selection of premium brands that the cutting-edge manufacturer offers.
Felder brings more than a decade of experience in adult retail to her new role. She played a key role in establishing a high-end sexy lingerie brick-and-mortar store in Philadelphia in 2005; and had since managed a sex-positive boutique that brings together sexual wellness with general self-care and entertainment.
On a mission to spread her sex-positive skills at a national level, Tracy's career path has led her to COTR, Inc., where she will now serve as a Brand Ambassador, focused on product training. Working alongside company founder and CEO Alicia Sinclair, Tracy is proud to represent the female-led manufacturer of cutting-edge premium pleasure product brands.
With her sights set on promoting sexual wellness, self-care, and acceptance of all gender identities and sexualities, Tracy's future goals include becoming a certified sex educator. Tracy believes that by embracing oneself sexually and sharing that with a partner(s) is the key to happy sex life. Her motto is: "Share, love, give … and receive unlimited pleasure!"
"It's an honor and great privilege working with Alicia Sinclair," Felder said. "She is an amazing innovator that has set the bar high for competitors and is opening the doors for entrepreneurial women of today. That means a lot to me and that's one of the key reasons I wanted to join COTR Inc."
Felder said that she is already in the process of following in Sinclair's footsteps in becoming a certified sex expert.
"I constantly strive to learn more about human sexuality in efforts to share my knowledge with as many people as possible," Felder said. "I want to advocate sex positivity as an attainable goal for anyone. One shouldn't refrain or withhold from what arouses them because it is taboo. Embracing yourself and your partner(s) through communication, awareness and positivity is how I see a sex-positive future. Share, love, give… and receive unlimited pleasure!"
COTR Founder and CEO Alicia Sinclair said that Felder was a natural addition to the team.
"Tracy brings the expertise, enthusiasm and positive energy that is fundamental to COTR, Inc.," Founder and CEO Alicia Sinclair said. "Her dedication to sex positivity and drive to engage consumers on the retail level make her an ideal addition to the COTR team. We're so happy to have her and have already seen wonderful connections develop as we introduce her to our retail clientele."
COTR Inc. is the parent company behind the bestselling bvibe.com, Le Wand and The Cowgirl brands. Our high-end, couples friendly, body-safe designs are complemented with engaging branding and marketing, which is focused on conveying sex positive education in a fun, friendly approach.