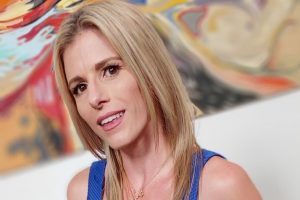 After a decade of building up a solid fan base, Cory Chase has found herself inundated with questions about how to succeed in the adult industry, both as a performer and as an entrepreneur.
One key aspect is multi-platform effort, as well as an ability to stay focused and play the long game — even when times are tough.
"In 2009, during the Great Recession, my husband and I had to look for other sources of income when our employers cut back our hours… we took jobs with our neighbor's cleaning company scrubbing toilets and mopping floors at night," Chase said. "This motivated us to build a basic version of our CoryChaseCustoms.com site in order to produce and sell new content quickly."
The site — the couples' only source of income — was three pages and a "Contact Us" section for customers to order custom videos. They also incorporated New-Bound.com and JerkyWives.com.
"Then, two months after the launch of our custom site, we struck gold… a mega-fan found me and began ordering large custom videos three times a week," Chase explained.
"We could finally quit the cleaning job and work full-time producing custom videos for our new client… he would order clothing, boots, stockings, props and more. He even paid for us to put down hardwood floors in the house so he could hear my heels clack as I walked into the scenes."
According to Chase, in this industry, diversifying is key. In addition to clip content, Chase performs in adult films for outside studios such as Girlsway, Evil Angel, Brazzers, Digital Sin, Reality Kings, Naughty America and more, while also live streaming for fans at MyFreeCams.com.
"You need to be hungry, adapt to situations easily, not take anything personally and want to WORK for it," she said. "There will be lots of hours devoted to this job, and you're going to find yourself learning about lighting, camera angles and editing… and customers can be demanding. You have to really, really want to please your fans."
Chase's husband, adult producer and performer Luke Longly, also added that "if you have a Clips4Sale.com store or other clips site, place a banner on your page stating that you produce custom videos. The banner should link to your custom video website or simply link to your email… we have a banner like this on all our sites.
"Trust me when I say: build it and they will come," he added. "If your existing customers enjoy your work, they will also request custom videos. So make your fans your first priority above all else and the rest will follow."
Find Cory Chase on Twitter at @CoryChaseXXX.