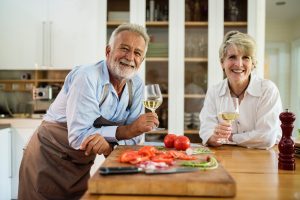 The headline via Edmonton Journal gets right to the point — "'Jiggly Wiggle' campaign in Britain targets rise of STDs in 60-somethings" – and the subsequent text jumps in immediately with some important insights and observations.
"Sex — like sexiness — is generally associated with the young, the supple and the able-bodied," they wrote. "But while the curation of youthful assets for public consumption has reached fever pitch in the age of Instagram… it does not follow that sex itself is a young person's game."
In fact, rather than "simply sitting around knitting and drinking tea and wishing they could return to the washboard abs and hangover-resistant constitutions of their youth," people are becoming increasingly sexually active in their senior years. As such, a recent report claims that sexually transmitted infections (STIs) in Britain are rising sharply among people over 60. This includes gonorrhea, as well as herpes.
Rising rates of STIs in seniors prompted Derbyshire Community Health Services to launch a three-month push to get older lovers to use condoms and pay more attention to their sexual health and wellbeing. Inexplicably (or, asshole-ishly), the campaign is called "Jiggle, Wiggle."
Consider this information in conjunction with a 2018 report from The Atlantic that revealed falling rates of sex among young people and millennials. This "sex recession" may be due, at least in part, to increased anxiety impacting these demographics, among other social factors.
None of this is totally great news. Young people abstaining from sex is fine, but young people abstaining from sex because of massive social anxiety is not. Further, elder folks continuing to be sexually active — even sexually exploratory — is great. Unmitigated STIs, though, are not.
In an effort to zoom in on the positive here though, let's focus on elders. Clearly this population is both interested in sex and needs sex-related information. And though there are some existing demographic-specific sexual wellness initiatives out there — see for instance performer and sex educator jessica drake's query below — this population seems wide open for products, marketing, education and more.
please signal boost!
joan and i are looking for women of color and more couples for our senior sex project- https://t.co/8x9ziCEBDR

— jessica drake (@thejessicadrake) March 5, 2019
Photo by rawpixel.com.