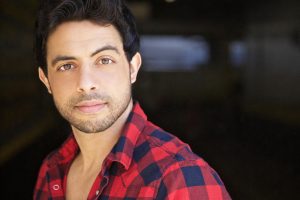 HOLLYWOOD – YNOT announced today that comedian Sammy Obeid will be featured during the pre-show entertainment at the upcoming YNOT Cam Awards in Hollywood. Obeid will open the night's entertainment, then pass the mic to headliner Kelsey Cook.
Obeid is probably best known for his 1,001-day streak of consecutive comedy performances, a feat which stretched from December 26th, 2010 to September 21st, 2013. Obeid set the new record on day 731 but extended his streak to echo "One Thousand and One Nights" (also commonly referred to as "Arabian Nights" or "1,001 Arabian Nights").
Four days before the end of his streak, Obeid appeared on TBS' Conan – a performance which directly led to him being booked for the YNOT Cam Awards, as it turns out.
"I saw Sammy perform on the Conan O'Brien show and loved his work," said YNOT CEO Connor Young. "He's smart and funny with a terrific positive energy to his act. I'm thrilled to have him as part of the pre-show entertainment for the YNOT Cam Awards, and I'm sure he's going to be a big hit with the audience in Hollywood."
During his streak of stand-up performances, Obeid also appeared on America's Got Talent, advancing to the Las Vegas round. He also became the first comedian to perform on The Food Network, appearing on Throwdown with Bobby Flay. He has also been profiled by TIME Magazine and featured in the New York Times. His album, "Get Funny or Die Trying," was named a Best Comedy Album by iTunes in 2013.
The first annual YNOT Cam Awards is supported by Platinum sponsors ImLive, Chaturbate, Studio20 and Flirt4Free, Broadcast sponsor CamOnCash and Gold sponsors iWantEmpire, FreeWebcams and Terpon.
For more information about the YNOT Cam Awards, please visit awards.ynotcam.com.
Companies interested in sponsoring the YNOT Cam Awards, or securing VIP dinner tables for the event, should contact YNOT co-owner Jay Kopita at jay@ynoteventsllc.com for details.