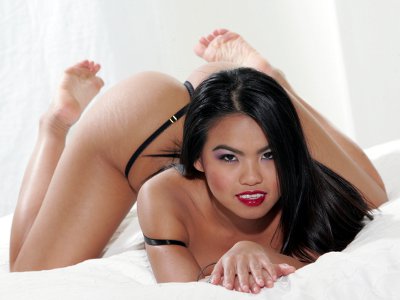 By Peter Berton
LOS ANGELES – Just plain gorgeous: That's the only way to describe Asian adult performer Cindy Starfall.

But her assets don't stop at her looks. Starfall is a hardworking star with XXX credits at Hustler, Wicked, Penthouse, Evil Angel, Digital Playground and Adam & Eve. She also has garnered Best New Starlet nominations from the 2013 Sex Awards and the 2013 Galaxy Awards. In addition, Starfall has broken into mainstream movies with Saving Humanity, a just-release, R-rated sci-fi film.
Not bad for a 23 year old Vietnamese-Chinese-Thai girl who was raised to toe the line and do what she was told.
YNOT.com: Your background isn't exactly what many fans think of as stereotypical for an adult performer, is it?
Cindy Starfall: I was raised in a strict Asian household in Saigon, Vietnam. My family was business-oriented, and often the only thing that mattered was money, acquisition and power. Being a girl in my culture, I didn't have a say in who I associated with, what I studied or who I would marry.
Unlike many other kids around the neighborhood, I had the lavish life that people dream of. However, I didn't have a fun childhood or the love and support of family.
When I came to the U.S. at age 15, I decided to learn English quickly, secretly get myself a job and save up my money so I could move out and do my own thing instead of being married off at 18 years old. At 19, I was able to buy my own car and moved out secretly to get myself away from the "prison."
So you didn't grow up in a sexually open household?
No, I didn't grow up in a sexually open environment. Unlike in American media, sexual images are forbidden in Vietnam. There was no porn, sexual images or sex-toy advertisement.
I remember masturbated with a water faucet on my clit when I was young, but I couldn't define what the good feeling was. My family did their best to keep me away from boys through home schooling and an all-girls private school. Sex topics were definitely forbidden in my house.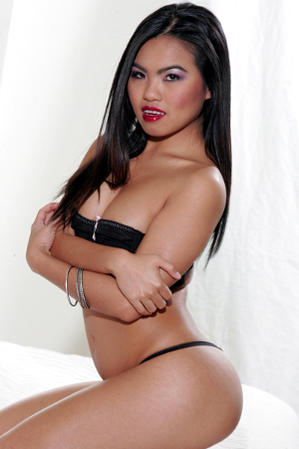 When I graduated high school, I was able to fully understand sex then. I lost my virginity at 18. From that moment, I wanted to be sexually involved and be myself.
Has your family accepted what you do?
I'm not sure my family is aware of what I do, since I haven't talked to them for years — since I moved out. They have always looked down upon me, so if they do find out, I'm sure it will just be a shame to them. Most likely, they won't admit it to the public because they care more about their society status than anything else.
What led you into the adult industry?
There was a combination of factors: good sex, money and liberation. It was mostly because I wanted to express my sexuality publicly.
I can make my own decisions, I can make my own money, I can take care of myself. Being a curious cat, I truly love sex — so why not give it a try?
Has the industry proven to be what you thought it would be?
I remember getting excited for my first scene. I wasn't nervous about the sex — just more about what would happen on a porn set. My attitude was to get right in there and have fun with it.
My first scene was for Reality Kings with Cypress King in Happy Tugs. I played the girl working in a massage parlor — the one who is available to give a happy ending for the right price.
Since I'd never been in a massage parlor before, I was more nervous about what I would say. English is my second language. It takes a little time to process and translate the whole idea.
Luckily, the director understood that it was my first scene. He laid out the process very thoroughly. I went in, sold the fantasy, gave it my best try, and it was fun.
What scenes have been among your favorites to date?
I try to give my best in every scene. As of now, some of my favorite scenes were one with Mandingo in Mandingo Massacre #5 from Jules Jordan, a scene with Prince Yahshua in Slaying Asian from Evil Angel and a scene with Asa Akira in Teach Me 3 from Elegant Angel.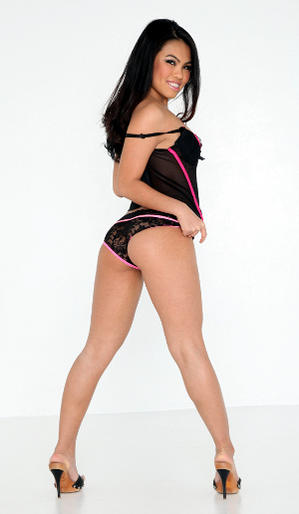 When you're on camera, are you acting? Trying to get your viewers excited? Into the scene for the scene's sake?
I want the real, genuine energy that I have off-camera to be displayed on-camera for the audience. I often imagine the guys jerking off to me, and that's what gets me off most of the time.
So…. Adult isn't "just a job" for you.
Adult is more than a job for me. I see it as a liberating way to be who I am. I don't want to be the come-and-go type of girl in the industry. I want to make a career out of it and use the money to invest in a business later on.
What have you learned about sex and people since you joined the industry?
I have met many people who are in it for the money, but I've also met people who truly are sexual freaks off-camera. Then there are people out there who try to pressure me into doing things I'm not ready to do or I'm not into. I appreciate them all, because they all taught me to be a stronger person and to do only things I really enjoy instead of doing anything for a quick buck.
Each of us is different in our own way. Each of us in the industry has a different style, but ultimately our biggest fantasy is pleasing the guys and girls who are watching. I often prefer to think of myself as a virtual geisha.