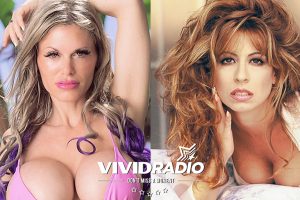 Adult film star and glamour model Casca Akashova will chat with industry icon Christy Canyon as the special guest on Canyon's eponymous SiriusXM Vivid Radio show Monday, May 3.
"I am truly looking forward to conversing with the one and only Christy Canyon," said Akashova. "It will be such a treat and I'm very excited!
"Also, don't forget that my fans can call in to the show at (855) 988-4843 and chat with us!"
The one-hour "Christy Canyon Show" goes live at 12:00 pm PT / 3:00 pm ET via the Vivid Radio / SiriusXM radio network, on channel 415.
The blonde bombshell, who just wrapped a whirlwind New York City media tour, will also be touting her latest release, "Crazy Fucking Milf Maids" from Hustler.
In the comical scene. Casca is pissed at her client (Nathan Bronson) for keeping his house so dirty. After all, she's not his maid.. she's a sexy maid! Her job is to not actually clean the house, but to fuck her clients once THEY clean the house. Turns out it's a very successful business model.