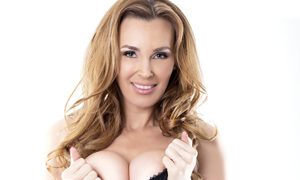 HOLLYWOOD, CA – Adult entertainment superstar Tanya Tate (https://tanyatate.com/) makes her webcam return in a special 1-hour show for CamSoda on July 9th. It's been nearly two years since the multi-award winning performer has had a cam show, but now that the time is right, Tanya connected with CamSoda for her return engagement. Tanya Tate's CamSoda show is set for Wednesday, July 9th 8pm PST.
"We've been looking forward to having Tanya Tate on CamSoda for quite some time now and we're psyched to finally have her join the team. She has an incredibly loyal fan base and we know they will be as thrilled as we are to see her LIVE in action once again," says Molly Cavalli, Head of Models/Bookings at CamSoda.
"I'm very excited to go online and enjoy some naughty time with the fans," said Tanya. "The CamSoda platform is incredibly user-friendly so I know people will easily be able to join the party. For my show on July 9th, I have a whole lot of new toys to play with but the one I'm most excited about is the ESCA from Kiiroo. We are going to have a lot of fun on this July 9th."
"We are thrilled that Tanya will be using our newest product, the Ohmibod ESCA powered by Kiiroo for her first cam show on CamSoda. We know that this will be a show to remember," says Timmermans, Kiiroo's CEO.
More information on Tanya's show can be found at CamSoda.com/TanyaTate.
Tanya was the subject of Ynot.com's article on adult performers as social media influencers. The adult industry resource delved into the timely topic looking at the opportunities and placement interest Tanya has attained. With over a million followers across multiple platforms, Tanya has been able to parlay her organic connections into an additional and thriving revenue source. The Ynot article "Adult Industry Personalities as Social Media Influencers? Tanya Tate Says 'Yes'" can be found here: https://www.ynot.com/adult-industry-personalities-as-social-media-influencers-tanya-tate-says-yes/.
Join Tanya Tate for an hour of an entertaining and erotic night of naughtiness! It happens on CamSoda July 9th at 8pm PST.