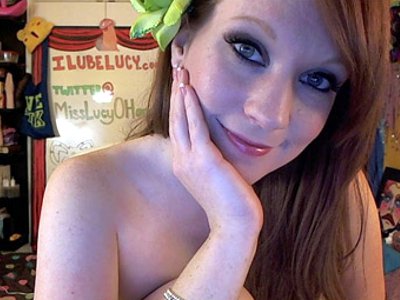 YNOT – Texan Lucy Ohara certainly does her part to prove the rumor that redheads are insatiable. Evidence is all over the place inside her recently launched official website.
Although Ohara is active on several live-cam networks, LucyOhara.com is her first solo effort, according to a spokesman for Pacino Cash, the affiliate program to which the site belongs.
"Working with Lucy Ohara on the project has been awesome, and everyone at [parent company] La Zona Entertainment is excited about the opening of her solo-girl site," said Chief Executive Officer Bobby "Pacino" Catalano. "Lucy brings a brand new flavor to the palette of sweethearts Pacino Cash promotes, and she is fully engaged with her fans, which makes marketing memberships so much easier for all of her affiliates."
The website offers fresh, exclusive video content, high-definition pictorials, weekly live webcam shows and amateur behind-the-scenes material. Ohara actively participates in many efforts to connect directly with her fans through the site, Twitter, tumblr and several other social networks.
"Pacino Cash has always believed that the interactive nature of quality solo-girl content is what sets great sites apart from good ones," Catalano said. "Lucy is always exploring new ways to satisfy the craving of her fans for an even more personal adult experience online."
La Zona Entertainment built its "street cred" in the legal teen niche with Latin Teen Cash. Pacino Cash, a relatively new offshoot, currently houses three solo-girl websites, but plans to add several more this year, according to Catalano. He also said each new site would showcase a performer who is as unique and sexy in her own way as Ohara is in hers.
Ohara's bubbly, irreverent personality is half the fun of her online presence. Her commitment to success doesn't hurt, either.
"It feels great to finally have my own site live," she said. "I've been a full-time cam girl for a while now, and if you're familiar at all with cam sites or interacting with cam models, I am well aware of the importance fans place on having a model who really likes to provide extra content to make each member feel special.
"Working with PacinoCash has been incredible," she continued. "I have known Pacino, Kellie and the crew since long before I ever got into business with them. They are great folks both on and off the clock. That level of trust in our relationship translates into a much more personable feel for the site and a strong commitment to keeping our fans happy, which is also great news for our [affiliates]. Promoting LucyOhara.com is easy, and I will be doing all I can to make it even easier as our community continues to grow online."
Pacino Cash pays a 50-percent recurring revenue share through CCBill.