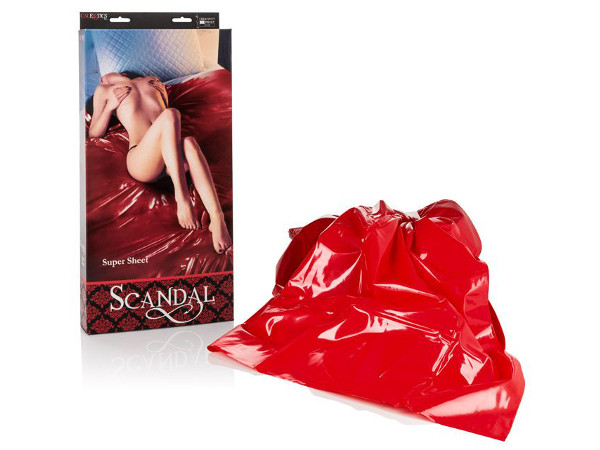 LOS ANGELES – Calexotics has turned a darker shade of red with the release of the newest addition to its Scandal collection. The company says the Scandal collection "is where fantasy meets reality … turn[ing] any vanilla sex life into something you only see in the movies."
The new addition, Super Sheet, is a versatile sheet that can be draped over any surface up to the size of a king-size bed. The sheet can be laid on a couch while two lovers engage in a sexy massage or over the floor for wet and wild lovemaking — all without any mess to clean. Simply pick up the sheet and the evidence of naughtiness disappears in an instant.
"Scandal is one of our best-selling fetish collections, and with the release of the new Fifty Shades Darker film, we expect demand to grow," said CalExotics founder and Chief Executive Officer Susan Colvin. "Moviegoers will be flocking into retail shops and online," looking for ways to spice up their lives at home.
Fetish and BDSM (bondage and discipline, domination and submission, and sadism and masochism) accessories have risen in popularity over the past few years, due in part to E.L. James's Fifty Shades trilogy. The first novel, Fifty Shades of Grey, sold more than 125 million copies by 2015, making it a household name. The book sparked an interest in the then then-relatively-taboo lifestyle.
Scandal takes consumers on an erotic journey of lust, desire and domination. The packaging helps bring fantasy to life and gives users an idea of what the adult toys can do for a couple's sex life. The collection offers a variety of restraints, harnesses and sensory accessories.
"Scandal provides an escape into a world of passion," said Jackie White, executive vice president for Calexotics. "Users fawn over the packaging and can't wait to take it home."
To learn more about the Scandal collection, visit the Calexotics website. To place an order, contact White or your favorite distributor.