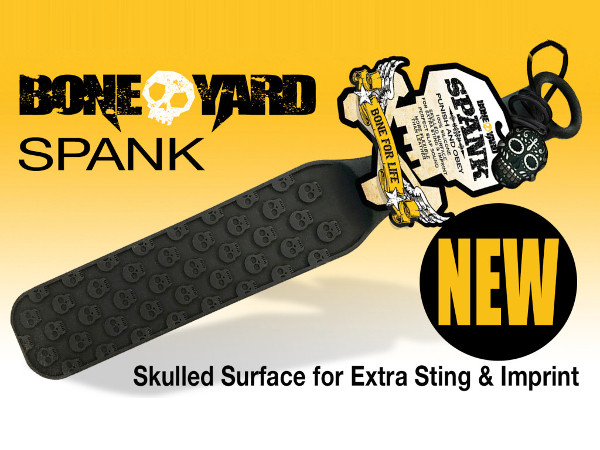 WEST HOLLYWOOD, Calif. – The bad boys at Boneyard Toys have ventured into the dark side with the release of the company's first BDSM item, a paddle called the Spank.
Made of silicone that feels soft to the touch, the Spank's raised skulls pattern is nonetheless able to leave temporary imprints. It's quite the attractive pattern, really, and certainly makes a statement when a hand print or lash mark simply won't do.
"With Boneyard, in order to be competitive, you will always see a feature or design that is a little different from everything else on the market," said Rob Reimer, chief marketing officer for Boneyard's parent company, Channel 1 Releasing. "From all the feedback we've gotten from previews, we think we hit this one out of the park."
Pun intended, we're sure.
Suitable for both beginners and advanced players, the Spank's flexible paddle surface with rounded edges make a satisfying slapping sound when it hits the target. A large hanging loop adorns one end, which is perfect for depending the paddle from a sleek Leather Daddy vest pocket hook, a collar, or whatever other devilish storage spot one can find. A collectible Dia de los Muertos keychain is included. (Use your imagination.)
The Spank measures 14.75 inches (37.5mm) in length, including handle, and 2.25 inches (5.7mm) wide. Reimer said the product will be available in mid-August.
The company released a brief video that really doesn't say much about the product, but it offers some nice eye candy.