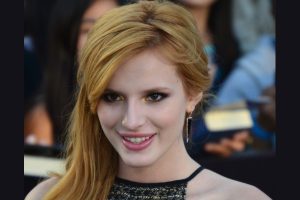 File this away under "News that Surprises Exactly Nobody."
Former Disney star Bella Thorne is slated to take home the "Visionary" award at this year's Pornhub Awards on October 11. Her directorial debut was made on the porn-streaming giant's website just a few weeks ago with her short pornographic film, "Her and Him," which starred Abella Danger and Small Hands. 
The film was lauded by Pornhub CEO Corey Price called "genre-defying content that will appeal to our fast-growing and increasingly diverse audience." Now, its infamous director is taking home one of the most important awards Pornhub offers. 
Thorne, who sparked headlines a few years back when she pre-empted a blackmail attempt by releasing her own nude photos online, wrote in a press release, "I'm honored to receive this award…Breaking the taboo of what's classified as beautiful has always been a vision of mine and it brings me such joy to see this being recognized for what it truly is…beautiful visionary art."
Anybody else yawning?
Look, big names get fawned over while the folks who do the work day in and day out are left on the sidelines are nothing new to the adult entertainment industry. Remember the million-dollar deals Vivid frontman Steve Hirsch got famous for offering every down-and-out celebrity for their first porn video? Notice how Pornhub makes a splashy PR grab at least once a month? Or how Bang Bros just bid $10 million to name a stadium in Miami? Notice how Kanye West—who's gone full Christian crusader these days and is making headlines the world over—is the art director for this year's Pornhub Awards? Or how dozens of talented musicians who already work within the porn industry were passed over for Bad Bunny, Ian Isiah, Kali Uchis, Rico Nasty, Tommy Genesis, and Ty Dolla $ign?
PR is the name of the game here, and it's working—the film and award have garnered headlines everywhere from The New York Daily News to Fox. And far be it from me to denigrate attempt at making porn more socially acceptable by linking celebrities with it. But it does rankle to see hardworking directors who have been a part of the porn economy for years—sometimes decades—get passed over for someone who's a few steps up the alphabet on the celebrity grading scale.
Bella Thorne image by Mingle Media TV, via Creative Commons Attribution-Share Alike 2.0 Generic license. It has been cropped and padded with black background.