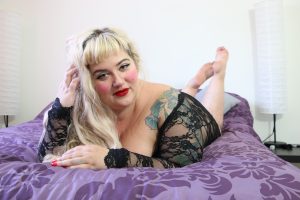 Los Angeles is synonymous with particular standards of beauty that, even within the context of a larger society that places so much emphasis on looks, are intense. So, where do people who throw those beauty standards for a loop fit in?
For the inside scoop on porn, beauty culture and how people who don't fit the mold still fit right in, we talked to BBW performer Genevieve LaFleur. Fresh off her new scene for Plumper Pass, LaFleur has no problem navigating Los Angeles and the adjacent Porn Valley as a plus-size performer.
"Guys there love me," LaFleur said. "Fat, confident women who are proud of their bodies seem to be pretty rare [in Los Angeles]." She uses this uniqueness to her advantage.
The fetishization of BBW performers is not a particularly new phenomenon, but it does come with its own unique concerns. Not fitting into the mold of what people expect one to look like can lead to fewer jobs, for instance, but LaFleur doesn't see it that way. Instead, she takes it as a new opportunity to show off her body-positivity.
According to LaFleur, while having a plus size body type is "somewhat limiting," she doesn't "feel advantaged or disadvantaged in the porn industry" due to her body type.
This is particularly encouraging for the BBW community as it indicates that performers are being judged less on their body type when submitting for roles and more by their ability and fit for the role itself. LaFleur even noted she is "seeing that more and more companies are expanding to include BBW women in their films," a sign that the days of fat-shaming are giving way to a more encouraging and welcoming side of the industry.
I keep feeling like I only have 2 days left in NY when really I'm here till Saturday! Lets make the best of it!! Pre-screen at meetgenevievelafleur@gmail.com!#datenyc #dateny #datebrooklyn #bbw #eros #p411@bbw_promo @BbwHeathens @TheBBWBible @DirkHooper @TheBBWBabes pic.twitter.com/A583VU7tFh

— Genevieve LaFleur 🎂 BIRTHDAY MARCH 15TH! 🎂 FMTY! (@GenevieveLFbbw) February 25, 2019
Despite this, BBW performers are still often categorized by their weight and on porn sites are distinguished from other performers. It's still much more common to see a category for "fat" or "BBW" than it is to see one for "thin" or other body types.
While she still has "felt fetishized as a BBW," LaFleur noted "any woman has… felt fetishized for one thing or another," remarking that she "met a guy once who had a fetish for rain boots."
Instead of feeling discouraged, LaFleur takes that potential negative and turns it into a positive. While fetishization of all women is not necessarily the right direction to be headed in, it does in turn level the playing field for all performers in that respect.
Still, it's more difficult at times for performers of size to land roles. LaFleur spoke to this, citing that BBW performers "have to work a lot harder than thin performers" to achieve the same sort of success in the industry.
Looking a certain way can help a performer's career, giving an advantage to thin performers for being just that. This may then result in fewer bookings for models with more experience, simply based on the way they look. While this is an industry where looks do matter and are an important part of the production, as a society, we are gravitating toward being more inclusive and understanding. Regardless, fat-shaming is still a common practice and often "justified" under the guise of wellness or health. Plus size performers often need to go the extra mile to land a role because of this.
LaFleur combats this kind of attitude by "remind[ing] them that size is not generally an indicator of physical health" and that her "cholesterol, blood pressure, etc. are all wonderful." She also stated that BBW performers "know we have to be more than just stereotypically hot to get booked" most of the time. This forces them to become better performers with stronger personalities in order to compensate for a perceived weakness. This, in turn, often causes BBW performers to have a more positive reputation than their thin counterparts.
LaFleur "feel[s] like sometimes thin girls just rely on [their thinness], and forget to bring their personality to set," in turn giving plus size girls the reputation for being better on set, more lively and perhaps better suited for some roles.
All in all, it is and will be interesting to see how the fate of BBW performers shakes out over the next couple years. How will our PC culture evolve to include people of side? Will our preconceived notions of beauty change? Only time will tell — BBW performers will continue to strive in the meantime.
I heard that you like the bar girls. Honey, is that true? pic.twitter.com/m29vdpfe1O

— Genevieve LaFleur 🎂 BIRTHDAY MARCH 15TH! 🎂 FMTY! (@GenevieveLFbbw) February 18, 2019