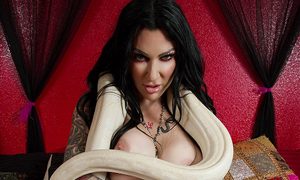 If you have a fear of snakes, you'll want to steer clear of a new photo of Jenevieve Hexxx for Barely Evil.
Always one to push the envelope in original ways, the photos feature Jenevieve and her very own giant albino boa constrictor named Pendragon. She also has a boa named Pendragon. The witchy woman's close relationship is obvious as a nude Jenevieve and her slithery playmate winds its way around Jen's curvy body. Shot by Amelia G and Forrest Black, the photos are another look at the model's dark and dirty side.
"The power and magick of the serpent are undeniable and sexy!" Jenevieve said."From Eve in the garden to Jenevieve the Serpentine Sorceress in the sacred sex dungeon. Amelia and Forest understand the ancient mystical sexuality, so the photos are mesmerizing! Barely Evil let us be boldly wicked! Luv!"
The photos can be seen now on BarelyEvil.com and they will appear in the next issue of Barely Evil Magazine. The magazines are available in PDF form for $6.66 or glossy print edition for $13. Check it out at www.BarelyEvil.com and www.BarelyEvilMagazine.com. They can also be seen on www.BlueBlood.com.