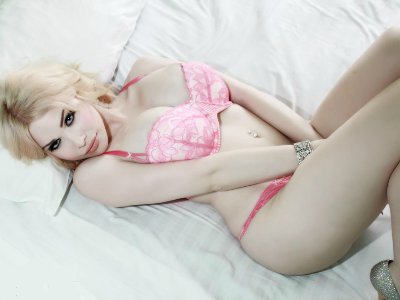 By Peter Berton
YNOT – Just as there are paintings and then there's the Mona Lisa, there are T-girl performers … and then there is Sarina Valentina.

Without a doubt, Valentina is one of the most beautiful T-girls ever to arrive in the adult industry. To describe her as sexy and gorgeous seems a criminal understatement. You can decide for yourself at SarinaValentina.com.
YNOT.com: Please tell us about yourself.
Sarina Valentina: Where to start? Well, I am an adult and fetish model, erotic artist and entrepreneur who happens to be a transgender woman. I do not let the word transgender define who I am, though. It is merely a label society uses. I'm a woman regardless what labels they would like to attach.
How did you get into the business?
I first got into the business legitimately when I was 18. I was a bit naïve and shy.
When I was younger, I met a few scandalous men who had talked me into posing nude [when I was] underage. I was hesitant but felt pressured for acceptance and was quite experimental, so I tried it.
After the taboo hit me, I took a break and stayed away from those people. They posted the photos on the internet, which caused a lot of stress at the time. They still float around time to time until this day.
Later on, I got over it, put up my guard and did things the right way.
I am now signed with a legitimate company that allows me to express my sexuality in my movies and picture sets in an appropriate and comfortable way.
You are arguably one of the most beautiful women in the business, period. How did you bring out this beauty during your transition?
First off, I would like to thank you for the compliment! I feel quite honored, as there are a lot of beautiful women in this business.
Beauty is a complex subject. Although most people think it's fully surface-oriented, there are a lot of things that help create the "total package."
I was always a decent-looking kid, so I would say genetics played a big role. Hormones and surgery are not miracle-workers for the typical trans-woman, but do help dramatically if done properly.
Regardless of those procedures, they are merely a base. I believe in maintaining a certain appearance, and a major factor is living a healthy lifestyle. Eating well, getting good sleep, good skincare and staying happy helps a ton!
Clearly, you are far more than "passable" as a T-girl. Does this pose problems for you? Are men startled to learn you are trans?
It really depends on the guy, to be honest. I have never had a horrible or violent experience after I had shared that and I have had long-term relationships where I was loved and accepted.
I like to be open and honest when I meet guys, so I usually tell the first or second day if I find them very attractive. I'm a very confident girl when I go out to social settings and blend in well with all types of surroundings, so I am always attracting handsome men. It can be a bit nerve-wracking if I feel so attracted to want to kiss them, and they want to advance further. But I usually get very shy and back away.
Sometimes when I have told men, they have said, "No, I don't believe you. Let me see." One man was so curious after I told him while sitting in his car conversing that he actually put his hands up my dress without my permission and started touching me. I had thought he was a respectful guy, so it was quite shocking and I jumped out of the car.
Sometimes guys cannot control themselves, so I usually avoid clubs to meet them due to the impulsive sexual night life of Las Vegas.
What do you see as the ideal female form? Have you achieved it to your satisfaction, or is there more that you want to do?
I feel I have achieved where I want to be, and I feel confident and sexy as any other girl.
I feel female beauty is diverse. I can see the beauty in all ethnicities and types of women in all shapes and sizes.
I feel like once a woman has embraced her beauty and realized her worth, her options can be limitless. Living as a woman for such a long time has made me realize and appreciate that wonderful and fun advantage of being a confident and strong woman in society.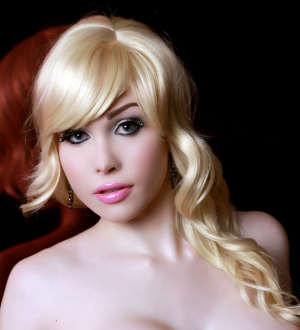 In your photos, you project an air of innocent glamour. Is this a conscious pose, or something that reflects who you are inside?
I really like this question! Thinking deeper, my background may have some impact on why I project that way.
What I can tell you is that I have always felt like a child at heart, and I really enjoy expressing my inner youth a lot in my content. I'm a silly girl with a sense of humor and a carefree attitude. I like to laugh and have a fun time during all of my scenes — unless other themes are involved when I create other types of fantasies.
I feel baring myself on camera brings out an intimate side of me that I share with my fans and that I value very much. I am also quite an exhibitionist at heart, as well!
What do you like and dislike about the adult business?
I like meeting new people and performers. Each all come from all over with diverse backgrounds.
I like picking out clothes and experimenting with different makeup looks, and plotting sexy scenarios for my scenes is always something I enjoy, too. I love tapping into my creative side.
I get wonderful fan mail on a daily basis from all types of people from around the world who appreciate what I do, and that means a lot.
Dislikes? Well, I am committed full-time to what I do, and occasionally I may meet a person I may have a tiff with. If that's the case, I avoid those people because I do not like to be surrounded by negative energy.
I use my instincts when making the proper business decisions. And knowledge is power.
Is it your goal to get into mainstream adult work, given your stunning looks?
As the expression says, "Go big or go home." I feel it is in my nature to shoot for the highest. I came this far and I'm here to stay.
If mainstream happens, it happens. I feel as the world matures, generations to come will be more accepting. "Mainstream" is always changing these days, so I'm pretty excited about the future.
So what are your future plans?
I like to live on a day-by -day basis, though I do think of the future a lot. It's hard to predict what will happen.
I do have plans for different changes with my website for now. But I must say those are a secret. I also have a few other projects I am working on that you could definitely consider mainstream, and I am very excited about those as they slowly fall into place.
However, I am like a little box of surprises, and I love surprising my fans with new things. So I must keep it a secret, boys and girls!