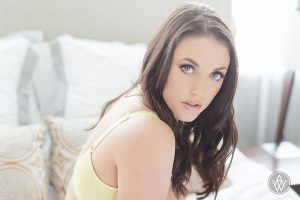 As the year (and the decade) wind to a close, it's interesting to consider key figures and forces that have shaped where we are as a community, as well as may be leading us into the future. Within this context, it's interesting to consider Angela White.
One could easily argue that no single person has had a more significant impact on the shape of modern adult media than White. A top performer, a noteworthy content creator, a global star and a sex positive leader and thinker who embodies activism in conjunction with labor, White leads the industry by doing, doing the work alongside the community all the while.
2019 was a great year for White, who was involved in the creation of four particularly amazing productions — Angela White: Dark Side (Jules Jordan Video), Drive (Deeper), Perspective (Adult Time) and Angela Loves Women 5 (AGW Entertainment) – among all her other work. But 2019 is also just one piece in White's overall puzzle, the picture of which continues to evolve and emerge over a wider span of time.
We had the opportunity to ask White some questions about her work in 2019 — and got a glimpse of where it may be headed in the future.
—
YNOT: Your career thus far has been marked by a steady stream of achievements and accolades such that people might wonder, What's even left for Angela White to do? But since maybe it's not about surpassing previous accomplishments, how does your work from 2019 complement or extend your body of work overall?
Angela White: In 2019, I feel I was able to both complement and extend my overall body of work. When it comes to my sexuality, I always feel there's more to explore. My sexual desires increase the more I indulge them. While I've done gonzo showcases before, I was tremendously excited to extend my reach into the genre by going bigger and bolder than ever before in Angela White: Dark Side. I wanted to tap into the fierce and nasty parts of my sexuality and desires and explore my "dark side" as the title suggests.
To complement my gonzo work and to challenge myself as a performer and actor, I branched out into bigger feature roles. I was fortunate to be cast as the lead in two major feature films: Bree Mills' Perspective and Kayden Kross' Drive. These were the biggest feature productions I've ever been involved in, and I'm so grateful that Bree and Kayden entrusted me to bring their unique visions to life. I took the roles very seriously and embraced the opportunity to grow. I hired an acting coach to help me develop my characters' backstories, and I set aside considerable time to meet with my co-stars for rehearsals before we even began filming. I lived, breathed and became the characters during the extended productions. These roles not only showcased my range as a performer and actor, they also gave me the opportunity to experience sex as someone else, which I find incredibly fascinating.
You make everything look seamless, but it's naïve to presume that your work "comes easy." What has been your biggest challenge during the course of your career thus far? 
The biggest challenge of my career was overcoming the "tyranny of distance." Being based in Australia meant missing out on many opportunities. There is a small and burgeoning industry in Australia, and I treasure the experiences I had and the lessons I learned while performing Down Under. It cannot compare to the size and scope of the Los Angeles adult industry — the global headquarters of porn production. I felt I could not explore my sexuality to the fullest without collaborating with and learning from the talented performers and directors in the US industry.
Now that I'm living in the United States, my new challenge is coping with being away from my family, friends and lovers in Australia. I'm usually too busy to get homesick, but when I do it weighs heavily on my heart. Living my dream is extremely rewarding though, and I'm so grateful to have a second family of supportive peers here in Los Angeles.
Your four key films from 2019 are all very different, each guided by a strong director with a particular vision. How do you balance creating content that enhances your own vision of yourself as a person and performer with helping a director actualize the vision they may have for a project?
Filmmaking is arguably the most collaborative art form of all, and when this collaborative spirit is embraced to its fullest, the results are spectacular. Maintaining an effective balance during content creation that simultaneously furthers a performer's personal journey and helps bring a director's vision to life is based on both the performer and the director possessing a genuine desire to collaborate and compromise, trust and a shared determination to learn and grow.
This was, without a doubt, the case in Dark Side, Drive and Perspective. Jules, Kayden and Bree all maintained an open dialogue with me throughout the production of each movie, as well as a friendly ear. As a performer, I was eager to go on the journey their visions laid out.
In the case of Angela Loves Women 5, I was both the director and a performer. Nevertheless, I maintained the same collaborative spirit, as I do with all my films. I feel that the production values present in all AGW Entertainment titles have always benefited from the open dialogue I maintain with my crew on set, and just like Jules, Kayden and Bree, I place the highest of premiums on communication with my co-stars to ensure that my set provides a safe place for them to explore and grow while simultaneously delivering a movie that all involved can be proud of and I know my fans will enjoy.
What is it about Dark Side that epitomizes your "dark side"?
It's all about the energy and attitude I exude in each scene. My "dark side" is a vibe rather than a scene type. For me, it's about tapping into a supreme confidence that allows no room for shame or self-doubt. It's about tapping into that "dirty" part of one's sexuality, especially the part that women are not meant to acknowledge.
Women are not supposed to be "disgusting" — but there is nothing too disgusting, too filthy or too nasty for my dark side and I certainly wasn't going to feel any guilt about expressing it. I bring this attitude to every scene in the movie, but my biggest blowbang and my biggest gangbang are the most overt and obvious examples of me embracing all the things society tells me I'm not supposed to enjoy as a woman. I get messy, I look destroyed, I get covered in sweat, squirt and cum. I even indulge in the bodily fluids. I sniff them, I gargle cum, I gulp them down. But even when I'm on my knees, I'm the one calling the shots and demanding more.
I came in with authority, knowing that all these men were booked for my pleasure, to satiate my ferocious sexual appetite and to service me. I give my absolute all and leave everything on the field in every scene in this movie.
You cast Natalie Mars in a scene in Angela Loves Women 5 with no "disclaimer" or any such nonsense. To my knowledge, this is unique, especially in mainstream content. What thoughts were guiding you here?
I absolutely loved shooting with Natalie Mars. She is an incredible performer and a sweet, intelligent and down-to-earth woman. I chose my cast for Angela Loves Women 5 in the same way as I always do: I looked for women who genuinely love women. When I came across Natalie, I immediately felt her passion and authenticity through the screen.
I think the "trans" label will eventually become passé. Natalie is a woman, and I feel she is as deserving of her place in Angela Loves Women 5 as the three other incredible performers. The world is changing, and porn is too. Porn is becoming more inclusive and, with "trans" being one of the fastest growing markets, it's clear that consumers are more accepting too.
I don't know if I was the first person to cast trans performer in a mainstream GG production without fanfare or disclaimer, but I hope it becomes the norm in the future.
It seems like the main thrill behind Drive is the idea of an in-control person — a woman specifically — gradually "losing control" via sexual exploration. Why do you think we as a society cling to the idea that sexual exploration is tied into a loss of control, especially for women? 
There is a long history of female sexuality being tied to hysteria. With this in mind, it's not a far stretch to parallel the full expression of female sexuality with a loss of control. It's a classic cautionary tale (for women): don't embrace or express your sexuality because your life will spiral out of control. The reality is, however, no matter what sex one was assigned at birth or how we identify, to experience sexual pleasure at its most transformative you must give up control. You must open yourself up to being vulnerable and to the possibility of a little bit of chaos.
When I really "let go" during sex, I get lost in pleasure. There's a dissolution of the self that can be transcendental, beautiful, scary, life-altering, traumatic, spiritual and revitalizing — but I don't associate this loss of control with a loss of power. Choosing to be vulnerable can be incredibly empowering.
Why is the scene in Drive between you, Joanna Angel and Wolf Hudson a "driven" exploration?
In the vast majority of BGG scenes, the male is the center of the action. Two women clamor to satisfy the man while perhaps engaging in some sporadic GG action, but not so much that it detracts from the real focus which is pleasuring the man.
In many ways, this scene with Joanna and Wolf in Drive is the same. Joanna and I both focus on pleasuring Wolf. But instead of being penetrated, Joanna and I do the penetrating. Despite the similar focal point with a regular BGG scene, the fact that a cis-man gets penetrated makes this encounter unique. Receptive anal sex for cis-men is still taboo, even within pornography. Or at least, mainstream porn with a primarily straight cis-male audience.
In terms of bisexual sexualities and content, it seems like cisgender men still face the most discrimination and incredulity regarding their desires. With this in mind, what thoughts were guiding you through the scene in Drive between you, Aubrey Kate, Dante Colle and Pierce Paris.
I can't claim to have been attempting to unpack cis men's bisexualities in Drive, at least not directly. In the final act of the movie, my character finally lets go of her shame and fear regarding her own sexual desires. I, personally, embrace all of my sexual fantasies and desires, and I don't restrict myself to heteronormative sex acts or straight cis-men. Therefore, I thought it would be disingenuous to have my character be so restricted.
When the team at Deeper was pre-producing the final act of the movie, I requested the casting of Aubrey, Dante and Pierce, and I was so happy that Kayden was not only open to, but enthusiastic about, the idea. I wanted my sexual rebirth in the final act of Drive to represent and be inclusive of a spectrum of sexualities.
I hope the inclusion of bi-sex between cis-men in a mainstream adult movie intended for a traditionally straight male audience plays a positive part in starting a meaningful discourse about which desires are acceptable for men. With that said, I don't want to underestimate the desires many women have to see and be involved in bi- and/or gay-sex between men. Like much of my work this year, I hope that this casting energizes the dialogue about inclusivity and sexuality within mainstream adult film production. And I think Kayden, the team at Deeper and the cast of Drive should be proud of their efforts to move this discussion forward.