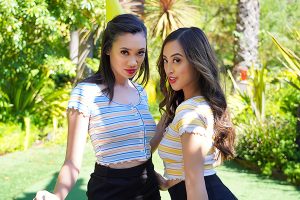 Los Angeles, CA — Alexia Anders and Madi Laine star in SexLikeReal Originals' newest sports-themed frolic, "Nude Golf."
Produced by director Alex Nash and director of photography Evan Redstar, the all-new 3D scene features the vixens as a pair of amateur golfers that yearn to have their holes filled after they discover their instructor is packing one hell of a driver. Shot in high-definition 6K with a 200 degree field-of-vision, "Nude Golf" is an engrossing threesome adventure that delivers an experience on par with the finest VR content available.
"Golf is a ridiculously popular athletic endeavor, but it's often considered one of the least sexy sports to behold," Nash said. "Our cast and crew decided to crush that stereotype and create the smuttiest, creamiest, and hottest golf-inspired sex spree imaginable. We set the action on the putting green and in the clubhouse so that we can explore a variety of salacious fantasies based on the game."
"Alexia and Madi offer entirely uninhibited performances as they unabashedly strip down and tear up the green with some hardcore pumping-and-grinding," Nash continued. "Executing a variety of sexy close-up scenarios, including a sensuous face-sitting sequence, these breathtaking babes audaciously exploit VR's ability to enthrall fans by bringing viewers deep into the naughtiness."
"With outstanding entertainers at the top of their game, cutting-edge VR technology and genuinely gorgeous locations, 'Nude Golf' is undoubtedly a hole in one," the director concluded.
The scene is currently streaming on SexLikeReal right here: https://www.sexlikereal.com/scenes/nude-golf-20349