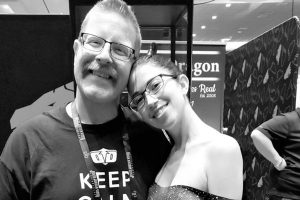 Petite, all-natural, raven-haired, green-eyed stunner Alex Coal guests this week on the infamous Danglin' After Dark podcast with hosts Dick Dangle and T Money.
"Alex Coal: Episode 252" covers a lot of ground, including how Alex got her start the selling underwear to fans around the world on a French website, then went onto webcamming with thousands of people in her rooms, and finally onto performing over 120 scenes in her first year. Alex teases about exciting upcoming scenes, discusses her industry nominations, what it's like to work with people she's idolized, playing Meg Griffin in Family Guy parody for Family Strokes and cosplay characters Teen Titans' Raven, and Wonder Woman, and much more.
Dick and T Money marvel at her transformation from the last time that met her three and a half years ago and were impressed with the fact she's killing it as a performer. Dangle refers to her as "magnificent with a wonderful sweetness about her" and says he was instantly enamored when he met her in 2016 at Exxxotica New Jersey.
"It was great to interview with Dick and T Money finally—they are so much fun! We talked about so many things. I know my fans and friends are going to love this interview, and I can't wait for them to hear it. This might be the most awesome interview I've had ever!" says Alex Coal.
Alex's interview is about 50 minutes into the podcast. "Alex Coal: Episode 252" also features short interviews from Alison Rey, Norah Nova, and Aria Carson. Check it out at Danglin After Dark.
Interview Alex Coal for your site, publication, or show by contacting Erika Icon of The Rub PR at erika@therubpr.com.