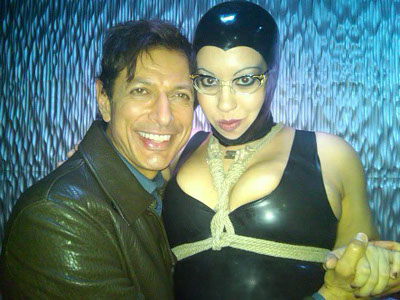 By M. Christian
YNOT – When latex aficionados, couturiers and artists discuss fashion, one of the first names to come up always seems to be Klawdya Rothschild's. As one of the world's preeminent designers in the medium and founder of KLAWTEX, she is at the epicenter of latex, costuming and couture in New York City … and frankly, the rest of the world.

Rothschild has worked with magazines including Wmagazine, Interview and Tush. Her company is the corporate sponsor for the New York Rubber Ball and Miss Rubber World. She has designed for celebrities including Sophia Larou and some singer named … what was it? Oh, yes: Madonna.
Despite operating in what many might consider the rarified atmosphere of mainstream celebrity culture, Rothschild remains remarkably down-to-earth, personable, charming and downright likable.
See for yourself.
YNOT.com: The most obvious question is "Why latex?" What drew you to the material?
Klawdya Rothschild: I have a cheesy answer to this, and then a not-so-cheesy answer. As a child, I was definitely drawn to rubber things: Picture little Klaw in her pigtails and pleats chewing on Barbie legs. I think it's definitely a texture thing, and to this day I still love chewy foods.
Now for the non-cheesy answer: My first interaction with latex as a substrate was through theatrical effects. I started working pro-theatre on the tech side — backstage — when I was 14, doing wigs and make up for drag queens. Then I graduated to special effects and props. These things require a lot of latex casting and liquid effects, like prosthetics.
Then I went to fashion school in London, and I then began making art with latex. My first large-scale latex piece was a walk-in vagina and uterus that was eight feet tall and made of high-density foam and latex.
After this I was approached by a few different latex designers, including my dear friend Michael Slyx of Slyx Fashions, and it sort of went from there. In my 20s, as a fetish model and performer, it started to make even more sense to me, as my notions of latex as a literal second skin became infused with new sexual and aesthetic connotations.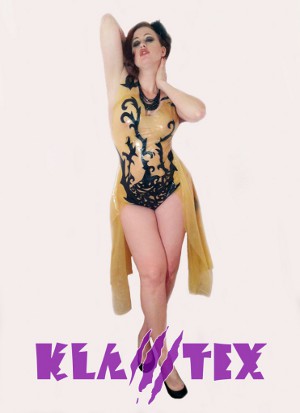 How, for you, does rubber become fashion? What inspires your designs — the whims of the material or the function of the garment?
My favorite quality about latex, from a makers perspective, is its finickiness. It's simultaneously resilient and fragile, and moves like a living thing wriggling underneath you. It's a handicraft that requires the skill and dexterity — and perfection — of couture. I love problem solving.
Fashion, like other art, has a reflexive relationship with functionality. A lot of latex in the fetish world is specifically designed for some purpose, to either facilitate an activity with well-placed zippers or embedded toys, or to inhibit movement like a sleepsack. Fetish fashion takes its cues from these uses and merges them with mainstream fashion considerations like drape, structure, color blocking, etc., but also the mainstream functionality issues of weather, storage or pockets, closures like zippers, buttons, etc.
There is an inherently sexual quality to latex clothing, because it so resembles the texture of skin and is sleek and shiny. How this becomes fashion in a mainstream way is a focus on the body. Latex is versatile enough to take the most subdued thing to the extreme — it's like a spotlight emanating out from your own body that radiates sensuality.
What are some of the more challenging projects you've worked on? How do you make latex anywhere close to mainstream? And … well, we have to ask: Madonna?
My most recent challenges have been designing my Latex Miracle line, which is a line of clothing specifically designed to incorporate silicone breast forms seamlessly into the garment. This may not sound like much, but it requires very careful drafting and a very delicate touch to allow the very heavy breast implant to hang right and be shaped around by the latex. It provides a scarily realistic look and feel, but that is sort of a geeky challenge.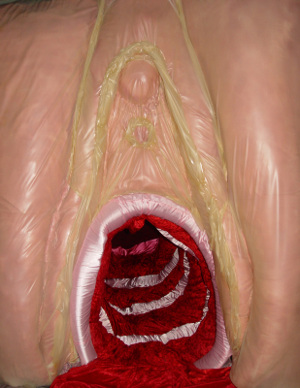 I would say Initiation Ov Desire — the walk-in vagina — was probably my most extensive and challenging project to date. It took three people, and sometimes more, working around the clock for one month to install. It included a fully formed, eight-foot-tall vulva and a six-foot-long vaginal canal that entered into an eight-foot-oval uterus with a suspension chamber in the center as a placenta. This installation had latex, satin, velvet, foam, lights, suspension and in-utero sound recordings, and when participants were "birthed," they were greeted by milk fountains that were life casts of all the breasts of the women who helped make the project. Pretty crazy right?
Now, about Madonna…. As a fairly established costumer in New York City, with a major relationship with Purple Passion/DV8, I get a lot of the A-listers approaching me to help give them an edge. Recently, Madonna's stylists consulted with me a few times for her upcoming music videos and I believe for the upcoming performance. I helped them pick a few things and actually advised on hook-suspension. So, keep an eye out for meat hooks in upcoming Madonna projects.
I'm a full-service, go-to, zany project kinda girl! [laugh]
What kind of marketing and promotion have worked for you?
The best marketing, no matter what anyone says, is word of mouth. There reaches a point for the big companies like Coca Cola where that no longer matters and they are doing more brand-management than anything else. But for the first couple decades, if people had walked around saying how shitty Coke tasted there wouldn't be a Coca Cola company around today.
That said, whether it's the best strategy or not, I believe strongly in affiliation and collaboration. I'm a fiercely loyal person, so I choose who I work with based on love. Julie Simone is one of my best friends; we have known each other a really long time and get closer and closer as years go on, so to me one of the most rewarding things emotionally and for my business has been my on-going work with her.
The same thing goes with Rubber World. [Event producer] Dana [Windsor] is my friend. It would never work if I didn't care about him. I want to see him succeed and I want the event to succeed, and vice versa, I'm sure. That's why I bother with it. Dana invited me to be a judge for Miss Rubber World 2010 after he came to one of my Latex Clothing Making classes, and ever since then I have wanted to support him as a person and his event. I continue to get more and more involved every year.
Not only were you a sponsor of the New York Rubber Ball and Miss Rubber World, but you also worked with Sophia Larou on her near victory this year. What was that experience like? Any juicy details?
When Sophia Larou and I first sat down for our concept meeting, it was like we were in each other's head. It's really great to find someone so young and talented who is comfortable enough to hand over their confidence to someone else to make their vision come true. It's no small thing, trusting that someone else's creation will be what you hoped it would be. There is a lot at stake, and she was very dedicated.
In my studio, my staff and I referred to that creation as "The Pink Monster" because it was a beast that could not be fed. It began as a Sweetheart Catsuit with detachable bustle skirt and became an epic sculptural creation, with Swarovski crystal zippers, handmade matching jewelry, a hat, a merkin — which is like pasties for your pussy. The bustle became multi-tiered and stuffed with booty bumping tulle. I also made her an inflatable bow to sit atop her bustle to give her that extra edge. I'm sure I'm forgetting something, because that was truly epic.
She had never competed before, and was a relative unknown in the Rubber World circle, but she made quite a splash. I wouldn't be surprised if she moved up to Miss Rubber World in couple of years, and with my help I'm sure she can.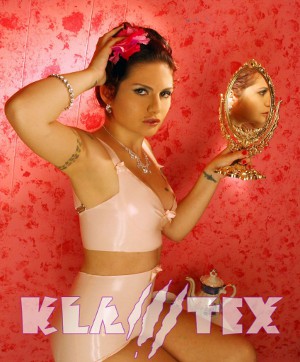 A lot of designers see latex as second only to skin in regard to what can be done with it. Is latex your only medium, or is there another material you'd like to work with?
This is actually a pet peeve of mine. As a fetishist myself, I totally understand the tendency to get obsessed and stuck in a mode of thinking. It's totally understandable, but I am not now nor will I ever be limited to latex. Latex is bringing me a lot of business right now, but I'm chomping at the bit for more non-latex costuming projects, which is how I spent most of my life. Currently, everything I offer in latex is also available in Spandex and Neoprene.
Additionally, I was formally trained as a corset maker and a historical and vintage clothing re-creator and restorer. I think that in the circles I run in, custom latex is more commonly known about than custom costumes. I think people think about cheap pre-fab costumes from Halloween stores, and they imagine couture fashion is something only the most wealthy of people have access to — and they are wrong.
Custom-made clothing was the standard until about the 1930s in the U.S., and later in other countries. Working with someone like me who can style you with authentic vintage pieces and mix in some original designs, and then craft your ultimate latex fantasy, is well within the reach of most people. I work hard to work with most budgets.
Okay, rant over.
That said, I have a deep love for flax linen, I think because it's another wonder fiber — very strong, but light and versatile — and also because it's the official fiber of fairy tales, and I'm obsessed!
Another thing I'd love to help introduce into the fetish world, and thus into the mainstream inspired by fetish, is molded felt. Wool felt can be molded and shaped like rubber or molded leather, and I can see some armor or corsets made of crafted and tooled felt, embroidered with Turkish designs, hand-stitched and custom-molded to be an exact-but-idealized replica of the wearer.
What are some of the special challenges latex brings to you as a designer?
Latex discolors very easily. Heat, light, markers, any copper alloys that include gold, brass, bronze and some silvers … all of these things can permanently ruin latex even with a moment's exposure. Obviously it tears, and it's very expensive.
But something people don't know is that humidity and fluctuations in humidity can affect the way the glue sets. The material gets bloated with moisture and thin with lack of moisture, so climate control is very important. Climate's also important ongoing for storage and care of already made garments.
I think the biggest challenge is being the geekiest possible. You need to be an expert researcher to find cheaper materials, best practices and a pop-chemist and pop-engineer. There is a lot of conflicting information about latex out there, because latex is not any one thing — it's a composite of many different rubbers mixed together. That's why latex from different manufacturers feels and even smells different.
Is there something you've always wanted to do as a designer — some special project you've always dreamed of doing?
Yes. I want to create a Rubber Playground. The idea that got this started for me was, and nobody better steal my idea, human bowling with latex runways, total-enclosure human bowling balls being thrown down the Pjur Cult-lubricated alley into large dildos as pins. And around this rumpus room, I wanted to build a latex white projection screen on which old latex fetish movies like Crimson Mansion and Vicious Vixxxens would play in a room of completely rubber-encased pillows, vac beds and inflatables with a latex quilt — Really, a quilt! — and area rug. The space also would have non-skid industrial rubber flooring, latex curtains in the windows.… I could go on forever.
I pitched this idea to Dark Odyssey and they asked me to do it, even promoted it, but honestly, they couldn't offer me enough money. So, any true fetishists out there who want me to make their dreams come true, this theatrical installation artist is your girl!
What's next for you? Any sponsorships we should know about? Any hush-hush projects you could tease us about?
Julie Simone and I are planning a crazy spectacle for Montreal Fetish Weekend and some very cool things for her upcoming Vicious Vixxxens film. I am not going to say much, but let's just say there have been a lot of equestrian designs being researched.
I'm also researching non-latex rubbers for latex-free clothes, and I hope to close a deal with a silicone supplier soon. The designs will be great for people with allergies, but they also won't be as delicate as latex and they're definitely not going to stain or rot.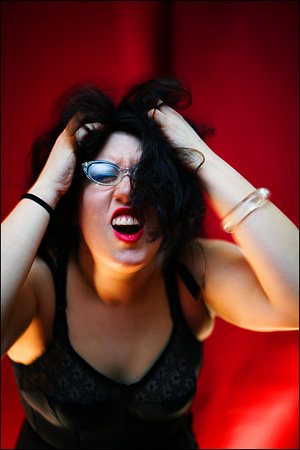 Klawdya Rothschild is a curator, artist, educator and occulturist. Her academic background includes social psychology, fashion design, fiber and textile arts, and museum studies. She is the recipient of two Annie Sprinkle Aphrodite Awards and has curated the Baltimore Erotic Arts Festival and judged Miss Rubber World. She serves on the board of the National Coalition for Sexual Freedom (NCSF) and is the Latex Maven for NYC premier S&M Boutique Purple Passion/DV8. Her company, KLAWTEX, is a full-service costume design and couture latex design and manufacturing firm in New York City.
Top image: Klawdya Rothschild with Jeff Goldblum on the set of Law & Order: Criminal Intent.