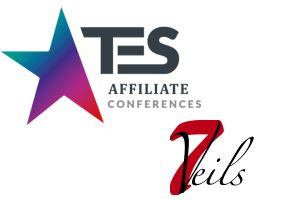 CAISCAS, Portugal – The European Summit (TES), Europe's premiere affiliate and media event, will be working with 7Veils Media to take the show's "social media presence to new heights," the organizers of TES have announced.
Founded in 2009, TES is designed to bring together professionals from the adult, e-commerce, gaming and other industry sectors for an intensive, 3-day networking event. With a strong focus on providing networking opportunities which will continue beyond the run of the show, the TES organizers said the social media component of TES is "critical in facilitating interpersonal relationships at the live event, which can help create new opportunities in business."
"We're very much looking forward to our working with our social media collaborators 7Veils Media," said TES co-founder Walter. "We truly believe they add value and help us keep you well informed before and during TES Cascais."
"7Veils Media is proud to bring our expertise and support to this cornerstone event in the affiliate and adult industries," said 7Veils CEO Lauren MacEwen. "The wealth of knowledge and experience at these events is difficult to capture in person, and using social media, 7Veils will increase the value and opportunity for everyone involved in The European Summit: attendees, speakers and sponsors alike."
The European Summit takes place in Cascais, Portugal on March 1-4. For more information or to register for the show, visit TheEuropeanSummit.com.
7Veils Media recognizes how the needs of adult entertainment social marketing differ from mainstream and creates successful marketing strategies with deliverable results for long term success on social media. If you have questions about 7 Veils support of TES, or about working with 7Veils to improve your social media marketing, please contact alex@7veils.com.