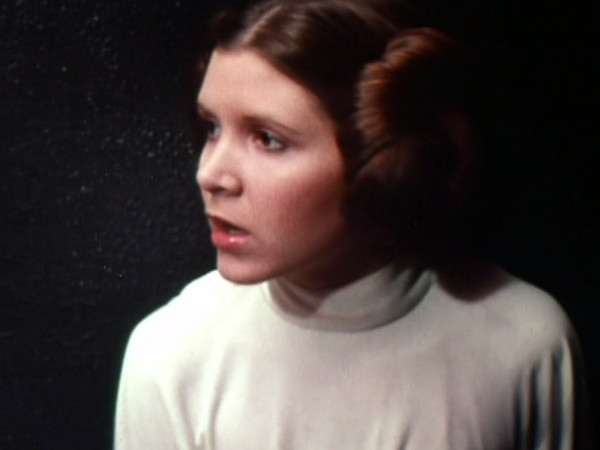 LONDON – It's the sort of headline that makes even a jaded, apathetic, nearly-inert fellow like me leap off the couch and shriek "Oh my god, no!"
Which headline, you ask? Why "Aliens living on nine planets outside the solar system could be watching us RIGHT NOW, scientists warn," of course.
Shit, wait… No, it's not that headline that freaked me out. It was this other one: "Porn websites are 'leaking' viewer's identities and your shameful secrets could be exposed."
The reason I'm freaked out (in addition to not yet being sure which porn sites they're talking about) is I have no idea how these porn sites found out about the time I masturbated to a picture of Carrie Fisher while simultaneously pleasuring myself anally using a Princess Leia action figure.
I mean, for fuck's sake, this happened in 1984. Porn sites didn't even exist back then, so how did they come to find out about it? Was there a spy camera planted in my nightstand? Did the action figure recently come to life and call the cops and/or Fabiano Theismann, or whatever his name is?
Just as I was really starting to panic, I decided I should read the whole article before concluding the only solution was drawing a warm bath in which to slit my wrists. And wouldn't you know it, the article isn't about me at all –- much less about me masturbating with an action figure jammed up my ass.
As it turns out, the headline relates to a warning from "Wandera," which sounds like a character from The Lord of the Rings, but is in fact a small group of people whose headshots get covered up by biographical text when you run your mouse over their faces. (Also, I believe they publish "mobile whitepapers," which are just like regular whitepapers, except much harder to read because they're constantly moving around.)
Anyway, according to Wanderlei Silva Wandera, "watching mobile porn on your smartphone is a much higher risk than watching it on your PC," because "smartphone operating systems, especially Android, are not as secure as desktops."
Wait a minute; what do they mean "especially Android"? Maybe this warning does have something to do with Princess Leia, after all.
It's fucking C3PO, isn't it? That gossipy, quasi-robotic, vaguely English space-bitch has been going around telling porn site operators about masturbation techniques I haven't used in 30 years, just to get back at me for melting his legs off with a magnifying glass when I was a kid?
OK, OK –- calm down, Ben. I could be reading things into this report that aren't there. Maybe they mean something different by "android?"
"The cyber security company studied 100,000 business phones in the UK and US found that 35 people out of every 10,000 access porn using their work gadgets," the article noted.
What the fuck does that have to do with anything? I work from home. The closest thing I have to a "work gadget" is my alarm clock –- and last I checked, the fucking thing doesn't even have a screen capable of displaying porn, much less a browser.
At this point, I'm just going to scan the rest of the article, looking for any references to Carrie Fisher, action figures and/or anuses.
"Grubby smut lovers should beware as porn could be ruining your sex life by 'peddling the myth it's easy to make girls orgasm,'" the article continued.
This has zero relevance to me, because I never watch porn while grubby. In fact, I take a shower before and after each porn-viewing session –- the latter mostly because I can't abide going through the day with a sticky navel.
As for "the myth it's easy to make girls orgasm," this is hardly my concern when jerking off in solitude, regardless of whether I'm doing so with the aid of a small plastic representation of Carrie Fisher. Obviously, the only orgasm I care about in such a context is the same one that causes me to shower afterwards.
"Dodgy websites designed to trick people into downloading viruses are the next greatest threat," the article concluded. "Surfers should also look out for web adverts booby trapped with malware and dodgy emails containing viruses."
"Dodgy" websites and emails? How the hell did Fiat-Chrysler automobiles get roped into this mobile porn warning? Have they been watching me jack off for the last 30 years, too?
Frankly, I'm starting to think I'd have been a lot happier if I'd never read any of this. Now my mind can't stop racing.
What other figures from my favorite old sci-fi movies and shows have been privy to my decades of self-pleasuring? Am I vulnerable to extortion perpetrated by William Shatner and/or Dirk Benedict?
Never mind. On second thought, I don't want to know.
I'm just going to hope some of these fearsome space aliens show up to conquer, plunder and colonize the Earth before any of my other terrible masturbatory secrets come to light –- especially the one involving plum sauce, Julianne Moore and a socket wrench.
Image: Carrie Fisher as Princess Leia in the original Star Wars.