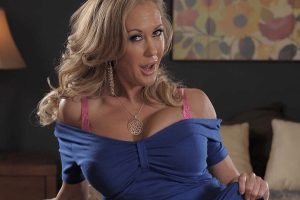 Brandi Love is the rare performer who is ageless, timeless and only gets better year after year. She continues to win MILF of the Year awards, her fanbase grows with every scene and the work speaks volumes.
She is a contract star for Sweetheart Video and her latest work for the company, in Girls Kissing Girls 23, is receiving raves even by Brandi standards. Rather than reviewing the entire movie, Don Juan DeMarkowrote a lengthy piece for XCriticadmiring Brandi's scene with India Summer, "A Steamy Night," directed by Ricky Greenwood.
"The days of Briana Loves Jennamay be over, but what is alive and well is the thirst for fans to see things that may only see once in a lifetime and India meeting Brandi sure as hell must be classified as once in a generation, DeMarko writes. "This is India and Brandi,two superstars who are already legends of this business and the things that not only fantasies are made of but the lore that make sex the wonderous thing it is in the first place."
"For every new fan that is tuning in for the first time, Brandi Love, what can you say, she has the most flawless body in the business. The sight from every angle is just eye-popping beauty," he continues. "This scene is not mechanical, scripted or boring for one second. These women show you why they are the best in the world and will always be the legends they are. This film is highly recommended for the reasons that make adult films the best form of entertainment there is."
While this scene may be receiving particular praise, it is far from the exception for Brandi. She is known by everyone from producers to fans to give every outing everything she has. Look for other recent Brandi scenes in Mother Lovers Society 18, Trickery: Indecent Proposals (BANG!) and"Brandi Loves Latex" on Brazzers.com.
Read XCritic's review at Xcritic.