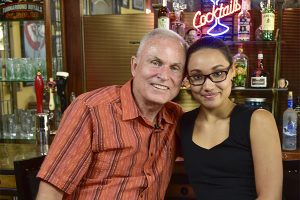 VALENCIA, CA – Dan O'Connell, director, founder of Girlfriends Films and all-around industry icon, is currently being spotlighted in an exclusive XCritic video interview.
The two-part interview includes a behind-the-scenes tour of the shoot house where many Girlfriends Films productions have been created and a gallery of glamour images starring XCritic spokesmodel Ambriel Willow, who conducted the on-camera conversation. The episodes were filmed during the weekend of the 2018 XRCO Awards where Girlfriends Films was awarded Best Girl/Girl Series for their flagship saga Women Seeking Women.
O'Connell gave Willow and XCritic editor Don Juan DeMarko a room-by-room tour of the house. He then sat down for an in-depth Q&A to discuss topics ranging from how he got started in the adult film business, the history of the house, adult movie stars who inspire him and most memorable scenes filmed within the house walls.
"Getting to see the Girlfriends Films house was truly a dream come true in the most literal sense possible. To see the Lamoyne Hotel come to [life] and so many other Girlfriends Films series was something that I know that I will never forget," DeMarko said.
"This house was built on a foundation of passion, and it does not surprise me one bit to see how the magic is created within the walls of that house," he added. "It is fantasy come to life. It is something for the new age of adult cinema, a place that lives up to every fan's, critic's and performer's fantasy when they first imagine what the Girlfriends Films house is."
In the follow-up XCritic commentary, "Dan and His House," Willow expressed how it felt to be in the presence of the director on his iconic film set.
"I was so deeply honored to be there," she said. "Every single room gave me butterflies because I could imagine myself having sex with one of my porn crushes in the business — and I have a few of those."
In addition to a beautiful gallery of images and the opportunity to take a peek inside an iconic community space, it's great to see three members of the community interact in a lighthearted and mutually respectful way. This is a wonderful initiative from XCritic and an insightful deeper look at a true industry leader.