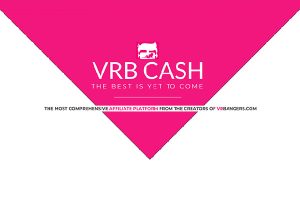 LOS ANGELES – Virtual reality porn site VR Bangers announced today the launch of VRB Cash, a new affiliate program with a "plethora of features like customized links, in-depth statistics, full support of proper postbacks and literally tons of GEO promo materials" for affiliates.
According to VR Bangers CEO Daniel Abramovich, one of the goals driving the launch of VRB Cash was to streamline and simplify the process of promoting VR Bangers.
"Even though you could have become an affiliate of VR Bangers in the past, it has never been as easy and convenient as it is now," Abramovich said. "Since our partners kept on asking for some new features, we have been working on such solution for quite a while – and now it finally is available! The long-awaited VR Bangers' platform is a huge game changer for all our affiliates, successfully making it even more straightforward to earn money for both them and us."
The result of the company's efforts is a clean and intuitive design, a tiered affiliate structure designed to reward high-performance affiliates and a wide variety of tracking links, embed codes and pop link codes, enabling affiliates to closely track sales and conversions.
"We have been working on our platform in sweat of our brows so it could offer one of the best services out there," said Boris Smirnoff, CTO of VR Bangers. "Now, when the platform is finally live, our affiliates do have access to one of the most all-inclusive systems in the business with tons of features and quality of life improvements for their satisfaction."
In a statement announcing the launch of VRB Cash, the company said the program offers "one of the best conversion rates in the business, thanks to many factors like: huge differentiation of their contents (after all they do have transsexual and gay versions of their websites as well), working with top-rated pornstars, a wide pool of available payment methods, new VR technologies implemented by the studio, revolutionary 6K UHD resolution and 3D 360° standard of their films, super-smooth VR Bangers app, their VR porn game, weekly updates and much, much more."
Smirnoff said the company "pretty much thought about every feature possible to make it all easy to use and user-friendly for our affiliates."
"For example, as opposed to the Epoch system, now we offer a bunch of new options like sending the customers of our partners to literally any landing page on our website – eg. pornstars, scenes, the app page and the others – or email notifications about your sales drop, new scenes' releases and more," Smirnoff added. "Our team has thought about it all and with some great advices from our family at TrafficPartner, I honestly believe that we have managed to make it perfect."
The company encouraged affiliates who have promoted the site through the VR Bangers' Epoch affiliate platform in the past to make the switch to VRB Cash as soon as possibly to enable more accurate sales tracking and so VR Bangers can begin working with them "more efficiently than ever before."
To learn more about VRB Cash or sign up for an account, visit VRBCash.com.